Bensonhurst, Brooklyn, New York is a neighborhood located in the south-western part of the New York City borough of Brooklyn.
History
Bensonhurst is a large, multi-cultural neighborhood in the southwestern part of the New York City borough of Brooklyn, with a large Italian-American population. The town is a real-life place that is mentioned countless times on General Hospital due to many Port Charles residents growing up there. It is about six hours from Bensonhurst to the fictional Port Charles, New York (given some clues by the show on Port Charles fictional relative location).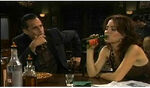 As the former home-neighborhood of several prominent characters, it was first mentioned as the home town of Sonny Corinthos and Lois Cerullo, who would often reminisce of the neighborhood.
The city returned to prominence on the show in 2007 when the Falconeri family came to Port Charles, in the form of Connie Falconeri, followed a year later by her cousin Olivia and son, Dante.
Former Residents
Community content is available under
CC-BY-SA
unless otherwise noted.