Jurassic World: Dominion Dominates Fandom Wikis - The Loop
Play Sound
Brando and Sasha Corbin are fictional characters and popular married couple on the ABC Soap opera General Hospital.
Casting
The role of Brando Corbin has been portrayed by actor Johnny Wactor since the character's introduction on January 30, 2020.
The role of Sasha Gilmore has been portrayed by actress Sofia Mattsson since September 18, 2018. Mattsson left the role on December 12, 2018 and returned on February 5, 2019.
Background
Brando Corbin is first mentioned on June 25, 2019 by Mike Corbin. Mike mixes up Dev Cerci with Brando, the son of Mike's cousin Gladys. He says Brando's father was some deadbeat who never married Gladys and he didn't stick around.

Sonny Corinthos gets the idea to pass off Dev as Brando's son, "Devin Corbin". Sonny tries to pay off Gladys to claim that her son Brando had a fictional wife who he married in Iraq and brought back to the U.S. where his wife died giving birth to Dev. Gladys argues that Brando died during Operation Iraqi Freedom in Iraq in 2003 and he didn't have any kids. After Sonny offers her more money, Gladys agrees to the deal.

Sasha is from Chappaqua, NY. She was raised by a single mother named Amanda whom she loved very much. And after Amanda passed, all the family that Sasha had left was her grandmother.

When her grandmother became very ill, she needed surgery and even after Medicare, the costs were enormous. And that's when Sasha got Valentin Cassadine's offer to pose as Nina's long-lost daughter for a few days and make enough money to pay for her grandmother's medical expenses.
Storylines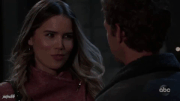 On November 16, Sasha has a heart attack after she overdosed on cocaine given to her by Cyrus Renault. She is rushed to the hospital by Brando Corbin. Michael, Willow, Carly and Chase all arrive at the hospital to check on Sasha and the secret of Chase and Sasha's fake affair is finally revealed. Chase reveals the truth to Willow and Carly tells Michael. Shocked, Michael sits by Sasha's bedside and holds her hand, thanking her for all the sacrifices she made to ensure Wiley's safety.
On April 15, 2021, Sasha visits Brando at the Xtreme Motors Garage, where she deduces that Cyrus is blackmailing Brando into working for him using the late Dev Cerci's illegal status and his closeness to Brando. After revealing she and Michael broke up, she and Brando finally kiss and have sex in the car he is working on.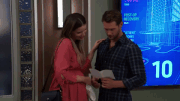 On May 13, 2021, after feeling ill and visiting the doctor, Sasha reveals to Lucy that she is pregnant. Brando is the father. Lucy tries to guess who the father is, but Sasha keeps it a secret, not yet ready for anyone to know. Gladys overhears Sasha tell her doctor she needs morning sickness medication. Gladys assumes Cyrus is the father. Carly finds out and tells Sasha Brando can't find out he is the father or Cyrus will kill him. Cyrus wants Brando to find the father of Sasha's baby and let him know who it is. Brando discovers from his mother that Sasha is pregnant.
On May 19, Brando confronts Sasha about her pregnancy and she admits it is his baby. They decide he will quit his job as Cyrus' driver and they prepare to talk to Cyrus together. Brando eventually quits as Cyrus' driver and Cyrus is taken to prison.
On June 23, Brando and Sasha go on their first date at Kelly's.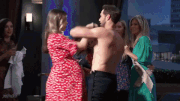 In July, after Sasha told him she doesn't want her child around the mob, he decides commit himself to her, their baby, and his job at Xtreme Motors. He point-blank tells his mother he's choosing Sasha and the baby over a possible job with the Corinthos Organization. The following week, he kicks his mother out of his apartment to make room for the baby and when Sasha decides to eventually move in.
On November 17, Sasha's water broke while she was trapped in a gallery closet with Gladys. Sasha had accidentally found out the baby's gender and gave Brando her phone. He discovered they are having a boy. Brando finds Sasha in the closet and rushes her to the hospital. While Sasha is in between contractions, they decide on the middle name "Mike" as in "Mike Corbin" but are still unsure on a first name.
On November 19, Sasha is rushed to the OR for a placental abruption and her son is removed by C-section. He isn't crying and is quickly taken away by doctors.
On December 2, Brando and Sasha decided to name their son Liam.
On December 13, it was revealed Liam was brain-damaged due to lack of oxygen.
On December 17, Sasha and Brando decided to take Liam off the respirator and Sasha held her baby in her arms as he died. Mike's ghost appeared and took Liam to heaven.
On February 23, 2022 after Liam's funeral, Brando suggests that he and Sasha get away for a while. Sonny Corinthos has a place in Niagara Falls that he offered to Brando and Sasha, or they could go to a B&B in Beechers Corners. Sasha chose Niagara Falls but she secretly told Sienna, a local drug dealer, that she needed something to get her through the next few days.
On March 4, Brando and Sasha make love in Sonny's place in Niagara Falls and then Sasha goes into the bathroom and takes some red pills that Sienna gave her. She goes back in the bedroom and proposes to Brando. After they talk for a while, Brando agrees to marry her. Sasha goes and takes another pill.
On March 10th (still the 4th on the show), while looking for a chapel, their car breaks down. They get it to a garage, where a mechanic there is an ordained minister, and they get married right there.
See Also
References