Wiki Targeted (Entertainment)
Play Sound
Crimson magazine is a top-of-the-line fashion magazine run by Nina Reeves.
They are continually one of the sponsors of the annual Nurses Ball charity event.
Background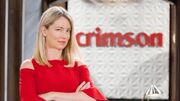 Crimson is a fashion magazine which was originally run by Connie Falconeri, who was formerly known as Kate Howard. In 2007, Jasper Jacks helped Kate get the magazine off the ground by housing Crimson at the Metro Court Hotel and becoming a major investor. Kate hired Maxie Jones as her first assistant, and Lulu Spencer as her second assistant. In 2008, Maxie was almost raped here by Logan Hayes, but he saw Lulu watching from Johnny's penthouse (which was formerly the home of Jasper Jacks). Lulu then accidentally killed him, which put her in the Shadybrook Sanitarium. When Kate was shot, Maxie temporarily took over for her as the top dog at the magazine.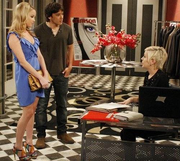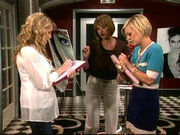 In December 2008, Kate held a party at the skyline restaurant to commemorate the re-launch of Crimson under Kate's name. During the party, after giving Carly the same dress that Kate had on, Lulu and Maxie were almost fired. But due to Jax having controlling interest, he prevented the event from taking place. In May 2009, it was revealed that new designs from Crimson were being leaked to Couture, Kate's former magazine now being run by Giselle May. After Damian Spinelli investigated closely, Clarice Bennett was fired from Crimson for her betrayal; but on further inspection, the culprit was revealed to be Kate herself.
In 2011, Lulu left Crimson, only later to return. In 2012, Maxie left Crimson when she was sentenced to 20 years in jail. Maxie was later released from jail. Kate then left Crimson in 2012 due to a mental illness and being confined to Shadybrook, but was later released.
Manning Enterprises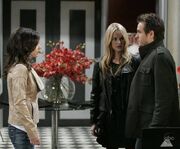 In June of 2012, Todd Manning bought out Lux Corp., to whom Kate had sold the magazine in 2009. Todd bought the company and renamed it Manning Enterprises. Todd also bought out Pres Floyd's newspaper The Port Charles Press and renamed it The Sun. Manning Enterprises also owned a sports publication and two publishing houses. ME also owned a cable television franchise, but in August of 2012, Todd sold it to Jerry Jacks, who approached him using the alias "James Craig." Jerry then took to the airwaves to inform the city that he had poisoned the water supply. Sam Morgan obtained a job as Todd's assistant so that she could secretly investigate his involvement with Heather Webber, but Todd fired her after realizing her scheme. Manning Enterprises was the sister company of Llanview, Pennsylvania -based Lord Enterprises, which Todd co-owns with his sister Victoria Lord. Kate's alternate personality, Connie Zacchara, later forced Todd to give her her job back at Crimson and in March 2013, Todd moved back to Llanview leaving Connie as owner once more.
In December of 2012, T.J. Ashford and Molly Lansing-Davis obtained internships at Crimson in order to investigate Connie for stealing the manuscript of Molly's book, Love in Maine.
Connie's End and New Ownership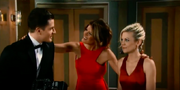 In August 2013, Julian Jerome comes to town under the alias of Derek Wells and buys the parent company. "Derek" then orders Connie to find a major front-page story to publish in The Port Charles Press (which he also controls) or she and numerous other of employees will be fired. Connie finds out about Ava Jerome's scheme of falsely identifying her daughter Kiki Jerome as a Quartermaine and uses the scandal as the front page story. Connie is then shot and killed in her Crimson office on the night of August 23rd. The killer was revealed to be Ava, although A.J. Quartermaine was the main suspect.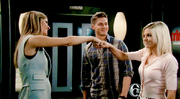 In 2015, Julian leaves the mob and starts a new company called Derek Wells Media. Julian hired a very inexperienced Nina Reeves to be editor-and-chief of Crimson, so she can run it into the ground so he can get the tax write off. After finding out that Maxie worked at Crimson, Nina offers her a job and she accepts. Maxie also gives Nina a make over so she can play the part of Editor-in-Chief better. Dillon Quartermaine was also hired as a photographer.
In August 2016, Julian is facing criminal charges and Nina blackmails him for full control of Crimson. Nina held crucial information that could impact Julian's case, so he relented and signed over ownership of the magazine completely to Nina.
In 2017, it was revealed that Derek Wells Media still owns Crimson and signs off on its budget but Nina controls the magazine. Julian later sells Derek Wells Media to his daughter Sam McCall and Drew Cain who rename it Aurora Media. Following Sam and Drew's divorce Sam decided to step down and Drew later sold 50 percent of Aurora Media to Jasper Jacks making him co-owner.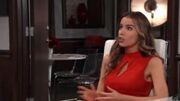 In 2019, upon thinking Sasha Gilmore is her daughter, Nina hires her as her assistant - and Sasha leaves when the deception is discovered.
In 2020, Lucy Coe and Sasha partner to relaunch the "Deception" makeup brand, and they get a reticent Nina to sign a contract with them. After a series of misunderstandings, Maxie quits, Nina angrily voids the contract with Lucy while accusing her of poaching Maxie, and Lucy resorts to accepting an offer from Valentin Cassadine to be their new investor.
In 2020, after losing Sasha and Maxie to Deception, Nina hires Nelle Benson as her assistant. She later reveals to Carly, that her plan is to get close to Nelle and get evidence to help bring her down in court.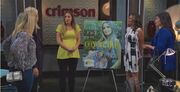 On June 29, 2021, the company launches a collaboration with Deception, for the "Year of the Mother" campaign. Valentin convinced Lucy to hire Brook Lynn on, this time as social media manager. She secretly tells Maxie that while they both work for Crimson/Deception, "Bailey" will be mere yards away at daycare in the building, allowing both of her "moms" to visit her without arousing suspicions. Maxie is grateful, and agrees to Sasha's plan for a candlelight vigil. The goal is to inform the public about missing children nationwide, and help in the search for Louise and the fugitive Peter.
Metro Court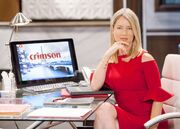 Crimson is located inside the Metro Court, a hotel currently co-owned by Carly Corinthos and Olivia Quartermaine. It is located at 1420 Quartz Lane, Port Charles, New York. It was built by Jasper Jacks on the former site of the Port Charles Hotel, which was destroyed in a fire in 2004, and named after his then-fiancée, Courtney Matthews.
Employees
Bold denotes current employees
References
v - e
Locations


Cities, Towns, and Neighborhoods
Asian Quarter Neighborhood
 ·
Beechers Corners, New York
 ·
Bensonhurst Neighborhood
 ·
The Catacombs
 ·
Corinth, Pennsylvania
 ·
Llanview, Pennsylvania
 ·
Nixon Falls, Pennsylvania
 ·
Pautauk, New York
 ·
Pine Barrens Forest
 ·
Pine Valley, Pennsylvania
 ·
Port Charles, New York
 ·
Queens Point Neighborhood
Residences
Ashford Condo
 ·
Ashford-Lansing-Davis Apartment
 ·
Baldwin Apartment
 ·
The Brownstone
 ·
Collins House
 ·
Davis House
 ·
Devane Manor
 ·
Falconeri House
 ·
Falconeri-Corinthos Safe House
 ·
Greystone Manor
 ·
Harborview Towers
 ·
Hardy House
 ·
Jacks Lake House
 ·
Jones Apartment
 ·
The Quartermaine Mansion
 ·
Reeves Penthouse
 ·
Robinson House
 ·
Secondary Corinthos Safehouse
 ·
Spencer Mansion
 ·
Winslow Garden Apartments
 ·
Wyndemere Castle
Medical Facilities
D'Archam Asylum
 ·
Ferncliff Asylum
 ·
Freedman Clinic
 ·
General Hospital
 ·
Mercy Hospital
 ·
Miscavige Institute
 ·
Port Charles County Secure Psychiatric Facility
 ·
Turning Woods Longterm Care
Businesses
Aurora Media
 ·
B/N Department Store
 ·
Black Duck Distillery
 ·
Cassadine Industries
 ·
Corinthos Coffee
 ·
Crimson Magazine
 ·
Deception Cosmetics
 ·
Eckert's Bakery
 ·
ELQ
 ·
The Haunted Star
 ·
The Invader
 ·
Jerome Gallery
 ·
Marta & Chloe
 ·
Metro Court Hotel
 ·
Volonino's Gym
 ·
Xtreme Motors
Restaurants, Bars, and Clubs
Beradino's
 ·
Charlie's Pub
 ·
The Floating Rib
 ·
Haven Bistro
 ·
Kelly's
 ·
Metro Court Restaurant
 ·
Noodle Buddha
 ·
Perks Coffee
 ·
Port Charles Grill
 ·
Pozzulo's
 ·
The Savoy
Education and Organizations
Alliance to Save Exploited Children
 ·
Dawn of Day Cult
 ·
Lila's Kids Summer Camp
 ·
Madison Preparatory School
 ·
Port Charles Academy Preschool
 ·
Port Charles Elementary
 ·
Port Charles High School
 ·
Port Charles University
 ·
Queen of Angels Elementary School
 ·
Sunshine Girls
Other Locations
All Saints Chapel
 ·
Archer's Pavilion
 ·
Art Studio and Loft
 ·
Baldwin Law Firm
 ·
Lookout Point
 ·
Mason, Petrovich, and Miller
 ·
Metro Court Pool and Spa
 ·
Port Charles Airport
 ·
Port Charles Country Club
 ·
Port Charles Courthouse
 ·
Port Charles Emergency Services
 ·
Port Charles History Museum
 ·
Port Charles Police Department
 ·
The Port Charles Press
 ·
Port Charles Woodlawn Cemetery
 ·
Rice Manor
 ·
Rice Park
 ·
Rice Plaza
 ·
Roger's Reptile Round Up
 ·
St. Timothy's Catholic Church
 ·
The Waterfront
 ·
WLPC
 ·
WXPC
Outside Port Charles
Andy's Roadside Diner
 ·
Art Loft
 ·
The Bar 65
 ·
Beechers Corners Police Department
 ·
Bensonhurst Church
 ·
Boronsky Clinic
 ·
Bridgeport Café
 ·
Brooklyn Union Pub
 ·
Canada Health Care
 ·
Canadian Lighthouse
 ·
Cartullo Couture
 ·
Cassadine Barn
 ·
Cassadine Island
 ·
Celestial Heights Manor
 ·
CoeCoe Cosmetics
 ·
Corinth Outlet Mall
 ·
Corinthos Cabin
 ·
Country House
 ·
Crichton-Clark Clinic
 ·
D.E.A.
 ·
Die Klinik den Geist zu Heilen
 ·
DVX
 ·
Ecole Internationale De Chatel
 ·
F.B.I.
 ·
Frankie's Bar
 ·
Gatlin's
 ·
Gene's Branford Roadhouse
 ·
Geneva WSB Facility
 ·
Green Briar Federal Penitentiary
 ·
The Island
 ·
Ithaca WSB Facility
 ·
Jacksonville Brothel
 ·
Llantano Valley Commercial Properties
 ·
Le Lucien Hotel & Casino
 ·
Malkuth
 ·
Manhattan North Hospital
 ·
Marick Clinic
 ·
Mountain Landing Longterm Care
 ·
Navy SEALs
 ·
New York Methodist Hospital
 ·
New York Police Department
 ·
Niagara Equities
 ·
Nixon Falls Clinic
 ·
Nixon Falls Firehouse
 ·
Nixon Falls Garage
 ·
Nixon Falls Park
 ·
Oak Hill Convalescent Home
 ·
Pautauk Woods
 ·
Pebela Cosmetics
 ·
Pentonville Penitentiary
 ·
Primary Corinthos Safehouse
 ·
Ryan's Bar
 ·
Shadybrook Sanitarium
 ·
Shriners Hospital for Children
 ·
Silver Water Longterm Care
 ·
Spring Ridge Prison
 ·
Steinmauer Prison
 ·
S.W.A.T.
 ·
Tan-O
 ·
Triple L Diner
 ·
Vanderbilt University
 ·
Vermont Safehouse
 ·
Whispering Pines Spa
 ·
Whitaker Farm
 ·
World Security Bureau
Former Businesses & Locations
Acorn Motel
 ·
Bamboo Bar
 ·
Body Heat
 ·
Bradley Ward House
 ·
Bucket O' Blood
 ·
The Campus Disco
 ·
The Cellar
 ·
Club 101
 ·
Deception Health Spa
 ·
Donely Shipping
 ·
Duke's Club
 ·
Emily Bowen-Quartermaine Memorial Clinic
 ·
Equinox Corporation
 ·
Forest Hills Sanitarium
 ·
Green Meadows Spa
 ·
Jason's Bike Shop
 ·
Ko Shing
 ·
L&B Records
 ·
Luke's Blues Club
 ·
Luke's Place
 ·
Luzetta's Bakery
 ·
McCall and Jackal Private Investigations
 ·
Mount Hebron Church
 ·
Nite Lite Motel
 ·
The Oasis
 ·
The Outback
 ·
The Paradise Lounge
 ·
Pine Circle Sanitarium
 ·
Port Charles Hotel
 ·
Port Charles Women's Clinic
 ·
Queen of Angels Church
 ·
Recovery Room
 ·
Rendezvous Motel
 ·
Roselawn Sanitarium
 ·
Sonny's Coffee Shop
 ·
Stay Cool Teen Center
 ·
Tea House
 ·
Teen Time Sports Center
 ·
Vaughn's
 ·
Versailles Room
 ·
Waterfront Clinic
 ·
Wyndham's Department Store