Curtis Ashford and Jordan Ashford are fictional characters and a popular couple from the ABC daytime soap opera General Hospital.
Casting
On November 19, 2015, Soap Opera Digest broke the news that Donnell Turner had been cast as Curtis Ashford, who would prove to be a valuable resource for a scheming Hayden Barnes-Cassadine (Rebecca Budig).[1]
While his character is not a doctor, Turner appeared in the recurring role of Dr. Aiden Williams on Days of Our Lives in 2010.[2]
Turner's other credits included recurring role of a doctor on The Young and the Restless, as well as appearances on prime time dramas How to Get Away with Murder and Revenge.[3]
He made his first appearance on November 30, 2015.
On March 14, 2014, the role of Jordan Ashford was originated by actress Vinessa Antoine. After 4 years with the show, Antoine announced her departure on July 16, 2018. Antoine chose to leave the series after she was cast in the lead role of the upcoming Canadian drama Diggstown.
Regarding Antoine's departure, an ABC rep told Soap Opera Digest, "Vinessa Antoine exercised her pilot out and is choosing to leave the show. While we are incredibly sad to see an actress of her caliber go, we feel that the character of Jordan Ashford is too important to lose and will be recasting the role."[4][5][6]
On August 10, 2018, Soap Opera Digest broke the news that the role of Jordan had been recast with actress Briana Nicole Henry.[7]
Antoine last aired on September 7, 2018.[8] Henry made her debut on September 13, 2018.[9]
Background
Jordan and Curtis have known each other for half of their lives. Jordan is the widow of Curtis' older brother, Thomas "Tommy" Ashford.
Initially they had a strained relationship because Jordan cheated on Tommy with Shawn Butler, which resulted in a son, T.J. Ashford. Jordan passed T.J. off as Tommy's son for several years. Tommy and Shawn served in the Marines together. Curtis was the one who told Tommy about Jordan and Shawn's affair and Tommy confronted Shawn in a jealous rage. The altercation cost Tommy his life.
The marines attributed the incident to a friendly-fire incident, but Curtis was haunted by the event and his role in it. This eventually led to a drug addiction that cost Curtis a promising career as a Drug Enforcement Agent. Jordan worked with Curtis in the DEA and saw his struggles with addiction first hand.
When Curtis arrived in Port Charles, Jordan feared that he may fall back into drug addiction and didn't want him around T.J. However, as sparks flew between the two, they were able to put apart their differences and forgive one another. After a year of dating, Jordan and Curtis were married on November 27, 2018.
Storylines
Curtis and Jordan reconnected in 2015 when Curtis arrived in town after being hired by Hayden Barnes to investigate the recent attempt on her life. There was still a lot of animosity between the two and Jordan demanded to know why he was in town.
Jordan assumed he was there for a job at the Port Charles Police Department and made it clear that she would not be giving him a job. She also warned him to stay away from T.J. Curtis countered that he had every right to see his nephew, but Jordan still did not trust him and advised him to leave town as soon as his business was completed.
After Curtis concluded his job with Hayden, he told Jordan that he had every intention of staying in town and she was not happy. Despite her best efforts, Jordan was unable to keep Curtis and T.J. from reuniting. T.J. was thrilled to have his uncle back in his life. Curtis apologized for being absent from T.J.'s life and was very proud of T.J.'s decision to become a doctor.
Curtis began dating Valerie Spencer and Jordan was concerned that Curtis' troubled history could hurt Valerie. She warned Valerie about Curtis' past and former drug addiction. Curtis and Jordan led separate lives avoiding each other as much as possible, however, Jordan remained a thorn in his side because she didn't trust his claims of sobriety or that he had turned over a new leaf.
Eventually Curtis approached Jordan for a job at the PCPD. Jordan still had concerns and Curtis offered to put her in touch with his sponsors. Curtis confessed to Jordan that he carried tremendous guilt over his role in his brother's death, but promised Jordan that he loved T.J. and would never tell him that Shawn is his biological father. Curtis and Jordan had no idea that T.J. had been standing on the other side of Jordan's office door and heard everything.
The following day, a furious T.J. confronted Curtis about the lies. Curtis suggested that T.J. try to see things from Jordan's perspective and to give her a chance to tell him the whole story. It took time until T.J. made peace with his mother's decision, but with Curtis' help Jordan and T.J. were able to reach an understanding. As a result, Curtis' relationship with T.J. grew stronger and he and Jordan softened toward one another.
On January 24, 2017, Curtis and Jordan went to Baltimore to question a witness from a case they were working on. Things quickly heated up and they shared a kiss. They almost slept together until Jordan stopped them, claiming that he had no idea what they were doing. Curtis refused to let her deny that feelings had been building between them for months.
Jordan was dating Andre Maddox at the time and refused to betray him. However, by March, Jordan and Andre had broken up and she subsequently began spending more time with Curtis. Jordan finally came around to the idea of having Curtis on board at the PCPD and offered him a job, but he turned her down.
Jordan worried that he was turning the job down because she had treated him horribly when he first arrived in town, but Curtis reassured her that it had nothing to do with her and police work just wasn't for him anymore.
After Jordan confessed the guilt and anger she'd felt for cheating on his brother and lying about T.J.'s paternity, Curtis insisted that it was time for Jordan to forgive herself. Jordan admitted that she wanted his forgiveness too. Curtis acknowledged there had been a time in the past when he had blamed her, but it was the past, and he saw that she was a great mother and a terrific police commissioner.
Curtis and Jordan began to date. T.J. was surprised by the relationship, but quickly grew to accept that Curtis and Jordan made each other happy. On occasion, Jordan would consult with Curtis on cases. In June, Curtis was pleasantly surprised by a visit from his aunt Stella Henry. Stella raised Curtis and Tommy after their mother died, so she was very close to Curtis, but she despised Jordan because she blamed her for Tommy's death. In the beginning, Stella and Jordan argued constantly. However, overtime Stella came to accept the relationship between Curtis and Jordan, partially due to her love for T.J.
On May 17, 2018, Curtis proposed to Jordan during The Nurses' Ball. Jordan happily accepted, but Stella refused to give the couple her blessing, and tried her best to talk Curtis out of marrying Jordan. She even went so far as to try and fix him up with an ex-girlfriend, but Curtis remained true to Jordan. Desperate, Stella announced that she would not attend the wedding. Curtis was disappointed by his aunt's decision, especially since Jordan had made several overtures of peace. He told his aunt that it was her choice to miss the wedding, but he intended to marry the woman that he loved.
As Curtis and Jordan's wedding day approached, the couple celebrated the bridal shower and bachelor party together with their friends at the Museum of Mayhem challenging each other in escape-the-room challenges. Curtis asked Drew Cain to be his best man, but Drew's son had been diagnosed with an inoperable brain tumor, so he had to step down. Curtis assured Drew that he understood and then asked Nina Reeves to be his "best person." Nina was thrilled and happily accepted.
On November 27, Curtis and Jordan were married. As the priest asked if anyone objected to the union, Stella entered the church and asked to speak. T.J. implored Stella not to make a scene, but she surprised everyone by apologizing to Curtis and Jordan and giving them her blessing. Later, the wedding party and guests assembled on The Haunted Star for the reception. The night abruptly ended when Kiki Jerome was found murdered in the honeymoon suite, the latest victim of serial killer, Ryan Chamberlain. Jordan and Curtis were forced to put their honeymoon on hold to find Ryan and put him behind bars
On February 2, 2019, Jordan was struck by a car driven by Drew, who was suffering from a debilitating migraine that left him temporarily blind. Jordan was rushed into surgery, but the extensive damage to her kidneys left her with just one barely functioning kidney. She was put on the transplant list, and had to undergo daily dialysis.
Jordan's condition continued to decline, but she kept it to herself because she needed Curtis' help tracking down Ryan. Curtis teamed up with the newly-elected mayor, Laura Collins to track down Ryan. Curtis cut his investigation short when he got the news that Jordan was continuing to decline. Kevin Collins was revealed to be a donor match to Jordan, but an underlying medical condition prohibited him from donating. Curtis realized that Ryan might be able to save Jordan's life, so he appealed to Laura to make certain that Ryan was brought in alive. Laura figured out where Ryan had gone, so she shared the information with Curtis and gave him a head start.
On May 24, Curtis arrived at the secluded cabin where Ava Jerome had lured her daughter's killer. Ava was about to kill Ryan, but Curtis begged her to reconsider because Ryan's kidney might save Jordan's life, which would be a better way to honor Kiki. Ava reluctantly lowered the gun. Moments later, the police arrived and arrested Ryan. Jordan made a full recovery after receiving Ryan's kidney.
Videos & Gallery
Curtis and Jordan got engaged on May 17, 2018 during The Nurses' Ball. Curtis put together an elaborate magic show to propose to Jordan, making it a moment she'd never forget.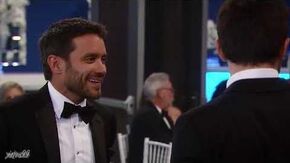 Curtis and Jordan were married on November 27, 2018. The ceremony was attended by several of their close friends and family. Nina Reeves was Curtis' "best person" and Anna Devane was Jordan's Matron of Honor.
References
Community content is available under
CC-BY-SA
unless otherwise noted.