Damian Spinelli and Maxie Jones
Bradford Anderson and Kirsten Storms as Damian Spinelli and Maxie Jones
General Hospital
Couple nickname
Spixie
Marriage/relationship dates
2008 - 10 (lovers)
(broken engagement)
2013 (ONS)


Apr - May 2015

(dated)
2015 - present
Status
Friends;

Co-parents

Profile
Age at wedding or meeting
Spinelli (29)
Maxie (20)
Gender
Male, Female
Couple residence
Spinelli Apt. #203[1]
Portland, Oregon
(Spinelli)
Winslow Garden Apts.


114 Clover Avenue, #68


Port Charles, New York (Maxie)
Damian Spinelli and Maxie Jones are fictional characters and a popular former supercouple on the ABC soap opera General Hospital.
Casting and Music
Spinelli was portrayed by actor Bradford Anderson from the characters debut 2006 until 2013, with a couple of short stints in May 2014, where Maxie and Spinelli did not interact and in December when they were reunited. Spinelli returned again on February 13, 2015 with Georgie and he made his last appearance on May 6, 2015.
Anderson has and will continue to make appearances since his very first exit. For a few episodes in January 2017, he was portrayed by actor Blake Berris.
Anderson received Daytime Emmy nominations for Outstanding Supporting Actor in 2009, 2010, 2012, 2013, and 2014, as well as a pre-nomination in 2008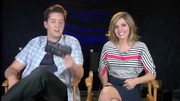 Maxie has been portrayed by actress Kirsten Storms since 2005. For an eleven-month stint (from September 2011-August 2012) the role was temporarily portrayed by actress Jen Lilley, when Storms took medical leave. Storms went on maternity leave on January 2, 2014 and returned on April 8, 2014. The role of Maxie was also briefly portrayed by actress Molly Burnett from July 5-29, 2016, when Storms took another medical leave. Storms took a third medical leave from February 16-July 24, 2017, where her character was off screen this time.
Storms was nominated for a Daytime Emmy for Outstanding Younger Actress in 2009.
The couple's official song is "Close Your Eyes and Wander" by Ernie Halter. The song "We Lost Our Way" by Daena Jay, feat Stuart Dooley played when the couple said goodbye in December 2013 and played in 2015, when Spixie's relationship was revisited, therefore it is another Spixie song.
Background
Spinelli was raised by his Granny and never knew his parents.
Maxie is the daughter of GH supercouple Frisco and Felicia Jones. She is a member of the Jones family and the Scorpio family.
When they first met they initially didn't like each other but after investigating the murder of Maxie's sister, Georgie, they started to get closer and eventually fell in love (Spinelli fell first). He calls her Maximista.
On July 15, 2008, Maxie and Spinelli have a one night stand. Maxie later regrets it, as Maxie believes that she used Spinelli for comfort. On January 8, 2009, Maxie seduces Spinelli to distract him from straying towards agent Winifred. When Spinelli finds out he's furious.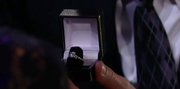 On July 14, 2009, Spinelli serenades Maxie and they go back to Jason's and make love. The next morning Spinelli proposes but Maxie doesn't answer. After proposing numerous times after that, she finally accepts (more to spite her father, Mac then anything). The couple were set to get married on September 28, 2009, but Spinelli realizes that Maxie is not ready to get married, so he calls it off but they end up having a "non-wedding" and become "non-husband and non-wife". Sadly, after many problems, Spinelli and Maxie end their relationship in a "non-divorce" on July 15, 2010.
On November 19, 2012, Maxie finally tells Spinelli that she loves him and wants to spend the rest of her life with him but he chooses to stay with Ellie, breaking Maxie's heart.
They share a daughter named, Georgie, who was born in August of 2013. She was conceived during a one night stand they had on New Years Eve 2012.
When Spinelli decides to move to Portland with their daughter and Ellie, Maxie and Spinelli say their final goodbyes to each other on December 16, 2013. They reunited on December 24, 2014 for Christmas.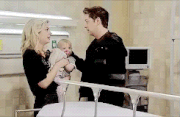 On January 20, 2015, it was revealed that Maxie and Spinelli have shared custody of Georgie, even though she lives with her father and Ellie. In February 2015, Spinelli returns and reveals that Ellie broke up with him because she believed that he was still in love with Maxie. At the time he thought he was and wanted Maxie back. They did get back together but have since broken up because they both realized they were in love with other people (Ellie and Nathan) and were better off as friends and co-parents.
Spinelli and Maxie went to the 2015 Nurses' Ball together.
Storylines
Classic quotes
Maxie (to Spinelli): "Damian Spinelli, you are, and always will be, my essential person."

Spinelli (to Maxie): "Maximista is unaware of the effect she's had me. My heart is full of you. My feelings long since past the point of friendship."

Spinelli (to Maxie): "Maxie Jones, you are the love of my life. My first, my last, my only."

Maxie (to Spinelli): "Is it so hard to believe that someone could love you?"

Spinelli (to Maxie): "But then there ... then there was you ... luminous, transformative Maxie, and you saw me, you got me, and to my utter shock, amazement and profound gratitude, you loved me, and that is the most precious gift, and I will never, ever betray it."

Spinelli (calls her "Maximista" for the first time) : "Maximista? I implore you. Modesty?"
Maxie: "What did you just call me?"
Spinelli: "Oh, uh, Maximista, as in the summit, the zenith, the pinnacle of beauty and sexual allure."

Maxie (about Spinelli): "It's like she (Georgie) sent Spinelli to fill me up, take my hand and lead me away from that dark place that was eating me alive. He is the absolute best thing that has ever happened to me, and how arrogant and ungrateful would I be to refuse that?"

Maxie (to Spinelli): "Even when I'm not with you, I think about you all the time...don't you know that I'd rather be with you than with anyone else in the world? You're stuck with me, Spinelli, forever and ever..."

Spinelli (to Maxie): "You felt so far out of reach for the longest time...like a hopeless quest...the Holy Grail, as it were. But you know, through our journeys, from the depths of that sewer to where we are now, you've helped me find my true voice. You've given me confidence in myself and my future. And I would be honored to devote the rest of my life to you."

Maxie: "You think I'm a work of art?"
Spinelli: "Real art. Not like the one-dimensional perfection seen in the pages of "Crimson." I -- no disrespect to Maximista's chosen career path, but you are so much more dynamic and complex than the -- than the smooth, boring women in the pages of "Crimson." You have a special heart and soul."

Spinelli: "You did not -- you did not take your pleasure so vociferously with me as you did with that wall."
Maxie: "Silly. That's because I faked it"
Spinelli: "Faked it? With me or the wall?"

Spinelli: "Believe me, there is no one in the world more unique than beautiful Maximista."
Maxie: "You're so sweet. You think I can do no wrong."
Spinelli: "My faith goes deeper than that."

Spinelli (to Maxie): "Maximista, you shall always be in my heart."

Maxie (to Spinelli): "I would rather spend one hour with you, than a lifetime with anyone else."

Spinelli (to Maxie): "I have never seen you more brave or more beautiful than you were today."

Maxie (to Spinelli): "And of course, I want you to be safe, but more than anything, I want you to be with me! Because I love you Spinelli...I'll love you forever."

Spinelli (to Maxie): "We share something, you and I...we are both profoundly, and most unfairly, misunderstood."

Spinelli (to Maxie): "You'll always have a piece of my heart, Maxie — and my friendship."

Spinelli (to Maxie): "Goodbye, my Maximista"

Maxie: "Merry Christmas, Spinelli"
Spinelli: "Merry Christmas, Maximista"
Proposal videos
Videos
Maxie and Spinelli become non-husband and non-wife on September 25-28, 2009. The couple got a non-divorce on July 15, 2010. Maxie, Spinelli and their daughter, Georgie say goodbye on December 16, 2013.
See also
Photo gallery
References
↑ Seen on November 18, 2015 ... https://www.youtube.com/watch?v=8iOtwOl0Pss
Community content is available under
CC-BY-SA
unless otherwise noted.