Dante Falconeri and

Lulu Spencer

Dominic Zamprogna and Emme Rylan as
Dante Falconeri and Lulu Spencer
General Hospital
Couple nickname
Lante
Marriage/relationship dates
2009 - Dec 2011 (on/off)


Dec 23, 2011 - Mar 4, 2016

(divorced)
Mar - Nov 2016 (lovers)
Nov 23, 2016 - Mar 29, 2019 (married)
Mar 29 - Jul 16, 2019 (separated)
Jul 16, 2019 - present (divorced)
Status
Divorced
Profile
Married by
Tommy Falconeri (first time)
Kevin Collins (second time)
Age at wedding or meeting
Dante (27)
Lulu (23)
Gender
Male, Female
Couple residence
Falconeri House, #1237[1]
Port Charles, New York (Lulu)
Unknown (Dante)
Det. Dante Falconeri and Lulu Spencer were fictional characters and a popular supercouple on the ABC daytime soap opera General Hospital.
Casting and Music
He was portrayed by actor Dominic Zamprogna from June 22, 2009 until on June 28, 2018, when Zamprogna decided to leave.[3][4] In 2014, Zamprogna was nominated for a Daytime Emmy for Outstanding Supporting Actor. Zamprogna later returned to GH for a special one-off episode on November 12, 2018 and again for a 10-episode run from March 15 to March 29, 2019.
Lulu was portrayed by actress Julie Marie Berman from October 2005 to March 2013. Berman was nominated for a Daytime Emmy for Outstanding Younger Actress in 2007 and brought home two Daytime Emmy's for Outstanding Younger Actress in 2009 and 2010 and one for Outstanding Supporting Actress in 2013.
Actress Emme Rylan, formerly known for her roles on Guiding Light as Lizzie Spaulding (2006-09) and The Young and the Restless as Abby Newman (2010-13), has portrayed her since April 11, 2013.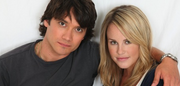 The couple's official song is "You Came Around" by Bob Harty and Jayson Belt, but it was performed by Annie Bethancourt and played for the couple when they exchanged "I love you's" for the first time. When the couple made love for the first time in May 2010, the song "Make You Feel My Love" by Adele, was played for them, but "You Came Around" remains the couple's official song. There song was played on June 28, 2018, when Dante left for his mission, the song hadn't been played since 2010.
Background
Dante is the son of mob boss, Sonny Corinthos and his old flame, Olivia Falconeri (now Quartermaine). He is a member of the Corinthos family and the Falconeri family.
Lulu is the daughter of most iconic supercouple in the soap genre, Luke and Laura Spencer. She is a member of the Spencer family.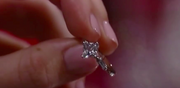 From the time they meet in July 2009 until their first date in December 2009, Lulu denied her feelings for Dante, while he kept pursuing her. During the duration of their relationship, Lulu broke up with him three times (twice as lovers Jan 18 2011, Aug 31, 2011 and one broken engagement Dec 5, 2011), so essentially they were on and off for two years.
Cheesy pick up lines are thing with them, meaning he spouts horrible ones to her and she laughs. It's one of the things they joke about to this day but it's also one of the things that she loves about him. Sex also became a running gag with them because every time they tried to "do it" something or someone always interrupted them, until May 5, 2010 that is.
The couple got married on December 23, 2011 (Christmas Eve on the show) in Bensonhurst with Olivia as their only guest and witness. At the end of the ceremony, a bunch of Falconeri's showed up and celebrated with the couple. They share a son named, Rocco, who was born via surrogate in September of 2013.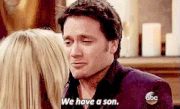 Lulu has also left Dante twice during their marriage, once in 2013 after they were in a nasty custody battle with Spinelli and Maxie, which resulted in them losing the baby because Lulu lied and Dante didn't cover for her (at the time that's the reason Lulu believed was why they lost custody), but they eventually reconciled. Then again in 2015, due to him sleeping with her cousin, Valerie, the two legally separated. After filing for separation, Lulu had second thoughts but found out that he had slept with Valerie again, essentially ending their marriage for good. After a talk with his mother, Dante starts to have second thoughts about ending his marriage while Lulu and Johnny plot to get "rid" of Valerie. After finding out what Johnny and Lulu tried to do to Valerie, Dante stated that he was going to see a lawyer to file for divorce, even though Lulu was the one he wanted all along.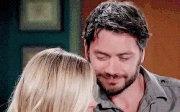 On February 1, 2016, after trying to work out their marriage, they decide that divorce is best and they both signed the papers. On February 14, Nathan and Maxie lock Dante and Lulu in a room to work out their issues and some progress is made. On March 4, after receiving their finalized divorce papers, they decided to spend the rest of their lives together. In the middle of 2016, Dante and Lulu decide to buy a house and with Sonny's help (unknowingly) they do buy one. In August 2016, Dante and Lulu found out that their last remaining embryo was no longer viable. On November 7, Dante proposed to Lulu and she said yes. He also used the same engagement ring.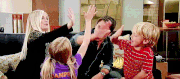 They were remarried in the living room of their new home on November 23, 2016 (Thanksgiving Day on the show). Laura, Olivia, Rocco, Maxie, Nathan and Kevin attended the ceremony.
The couple have been to four Nurses' Ball's together (2014 and 2015 as a married couple, 2016 as a dating couple and 2017 as a married couple).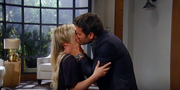 In December 2016, Dante and Lulu meet Lulu's daughter, Charlotte, with Valentin Cassadine.
On June 28, 2018, Dante left on a mission for the WSB to hunt down the man who tried to kill Lulu two years prior, Raj.
On March 22, 2019, Dante returned home and reunited with Lulu but he didn't seem like the same man he was before he left. After being home for a few days he realized he needed to get some help since he was suffering from severe PTSD and he feared he'd been brainwashed so on March 29 he left Port Charles again to get help and so that he can protect Lulu and the kids from himself.
On July 16, Lulu learned from Maxie that Dante shot Peter so she realized that he wasn't coming home anytime soon and she was even more distraught that he sent divorce papers to her although she remembered that Dante told her not to wait for her and to go on living her life and be happy.
Storylines
Classic quotes
Dante and Lulu meet:
Dante: "Man, I love karaoke"
Lulu: "Ooh. Heh heh. That's surprising."
Dante: "Do you like surprises?"
Lulu: "[Laughs]"

Dante flirts with Lulu:
Dante: "So, Lulu, you, uh, come here often?"
Lulu: "Oh ho ho! You did not just say, "Do you come here often?"

Dante: "Look, Sonny and I are pretty much on opposite sides of everything there is. But we do agree on one thing."
Lulu: "What?"
Dante: "That you are something special."

Dante (to Lulu): "Okay. That was the four alarm blaze burning in my heart for you."

First 'I love you's'
Dante: "Hey, look, will you stop it? I love you."
Lulu: "I love you, too."

Dante (to Lulu): "Hi, beautiful."

Dante (to Lulu): "Hey, you wouldn't happen to have a file in your cleavage, would you?"

Lulu: "Dante... [Laughs]"
Dante: "We have a son."
Lulu: "We have a son."
Dante: "He's ours. He's yours and mine."

Dante (to Lulu): "...I love you and you are precious to me."
Proposal videos
Dante proposed to Lulu on the Metro Court terrace on September 21-22, after they had broken up but Lulu couldn't answer. Lulu had planned to say yes a few days later but Dante was shot. While in the hospital, Dante proposed to her again and she accepts (on October 5, 2011). Lulu ended up breaking off their engagement on December 5, due to his job but she proposes to him at the PCPD on December 16, and the two officially became engaged.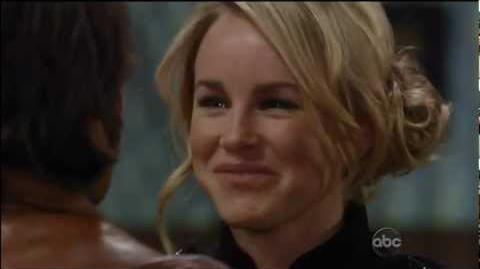 Wedding videos
Dante and Lulu were married by Tommy Falconeri in Bensonhurst on December 23, 2011 (Christmas Eve on the show). Dante and Lulu were remarried by Dr. Kevin Collins in the living room of their new house on November 23, 2016 (Thanksgiving Day on the show).
Montage videos
See also
References
Photo galleries
One photo gallery has pictures of Julie Marie Berman as Lulu and the other has pictures of Emme Rylan as Lulu. The second Emme gallery consists of pictures from Dante and Lulu's second marriage.