Cobra Kai Season 4 - The Loop
Play Sound
Deception Cosmetics is one of the local companies in the city of Port Charles. It is located inside the Metro Court Hotel and is currently co-owned by Lucy Coe and Sasha Gilmore.
Maxie Jones is the vice president and creative director, and Valentin Cassadine is a silent financier. Sasha is also the house model known as "The Face of Deception," Brook Lynn Quartermaine was first the voice of Deception, now social media manager, and Gladys Corbin is an office administrator.
History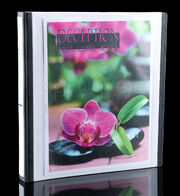 Julia Barrett launched Deception in the 90's with Scott Baldwin and Dominique Stanton. Laura Webber was the former CEO. Elton Herbert was an assistant.
By 1994, Dominique had passed away, and Scott and Julia had left the company - leaving Lucy Coe in charge, and Brenda Barrett as the house model. During the Valentine's Day photoshoot, Brenda expressed interest in the business side of the company, wanting to use her intelligence beyond her beauty. Lucy is against the idea, telling her the company is running just fine by her, and Brenda should finish her college degree first.
Former models, known as the "Face of Deception", included Brenda Barrett and Gia Campbell. Gia, who was Carly's choice, initially competed for the opportunity against Elizabeth Webber, who was Laura's choice.
Laura bought Deception Cosmetics from them, but since Sonny Corinthos was her financial backer, he insisted his wife, Carly Corinthos be her partner and the two women clashed over who should be the company's signature model. They came to terms where Laura owned 50% of the company and Carly owned 49%. Sonny took 1% ownership of the company as a silent partner as insurance for Laura that Carly wouldn't become a problem. Of course that was a problem for Carly.
The two could not get along and arguments ensued over everything, from the size of Carly's office space to who the new "Face of Deception" would be before its launch. Carly had Laura locked on the roof of their office building during a major event where she changed all the media materials to take the company in a different direction, despite what Laura wanted.
In 2001, a reception was held, in which, to get one over on Carly, and upon Elizabeth's whispered insistence, Laura announced Gia Campbell as the new house model.
The company eventually closed in the 2000's.
In 2013, Laura was convinced by Lucy Coe to revive Deception, but Laura only agreed to be her partner if they make it health related, turning the company to a health spa and gym. Lucy also hired Milo Giambetti to work as a trainer at Deception, which led him to quit his job working for Sonny Corinthos as one of his bodyguards alongside his brother Max Giambetti. Unfortunately, the project never got off the ground and their partnership ended when Laura moved back to Paris.
Storylines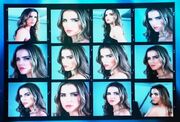 In 2019, Lucy Coe spots Sasha Gilmore and is convinced she has the perfect look to be the "Face of Deception."
On December 19, after working out a 70/30 contract, she and Sasha partner to relaunch the "Deception" makeup brand, and they get a reticent Nina Reeves to sign a contract with them. Maxie Jones impresses Lucy, giving her creative editing ideas:


"You need to underline the brand, "Deception" when you're ready to reveal who you really are."
After a series of misunderstandings, Maxie quits working for Nina, who angrily voids the contract with Lucy while accusing her of poaching Maxie from Crimson, and Lucy resorts to accepting an offer from Valentin Cassadine to be their new investor.
In 2020, at the first photo-shoot, Valentin announces that Deception will be sponsoring the annual Nurses Ball charity event that year, greatly pleasing Lucy, its host who helped establish the event. He brings along Brook Lynn Quartermaine, announcing her as the voice of Deception.
Arriving at the first photo-shoot, Sasha is a physical and emotional mess after hearing that the man she loved married another woman. Maxie's PA Suzanne offers Sasha some white powder in a vial to help her get through her first photo-shoot. She appears to take it, and is a big success.
In August 2020, while Brook Lynn is recovering in the hospital after being near fatally attacked by Nelle Benson-Jerome, Sasha visits her and gifts her with the latest Deception merchandise - moisturizer.
On October 14, 2020, the Deception team minus Maxie meets with the head buyer (Ms. Madigan) from Pebela. Sasha, secretly going through withdrawal, first asks Lucy to postpone saying she isn't feeling well, then makes a mess of the presentation. Valentin steps in to attempt to smooth talk her into buying their product - she represents one of the top cosmetic and beauty chains in the world - he tells her that his ex-wife shops there exclusively. Brook Lynn confronts Sasha over her behavior, reminding her that this is a career for all of them, they all have a stake in the company, and they cannot tank this deal. They both approach the buyer, and off the cuff and from the heart, Brook Lynn and Sasha plead:


"Deception Cosmetics makes this imperfect woman look perfect. And that is what we want to bring to women who shop at your stores:
perfection in an imperfect world. They all want a second chance - just like me."
The team is pleased with Sasha's words, and Ms. Madigan seems impressed by their passion and realism. Lucy attempts to play the "Deception" demo, for her - and when it doesn't work, is convinced that Brook Lynn can sing it live. Panicking, Brook Lynn agrees when she realizes Amy Driscoll, the true singer, is there and they can use bluetooth. Unfortunately Chase interrupts the performance and their deception is discovered. The buyer walks away and Lucy fires Brook Lynn.
In January of 2021, Avery gave Nelle's half-heart necklace she had found, to Lucy Coe to put on Sasha for luck during her interview with Jackie Templeton for GMA3. The press had learned about Sasha's drug use as a model for Deception Cosmetics, so the team decided to have Sasha sit down for a live interview with Chase's famous journalist mother Jackie, to give their own narrative and tell the truth.
Avery points out the necklace when she sees Sasha being interviewed and it is revealed that the necklace is a match for Nina's half-heart necklace.
On May 13, Sasha tells Lucy she is pregnant. Lucy wants to use Sasha's motherhood to make Deception Cosmetics the "Year of the Mother" and she later comes up with the idea to call Sasha the "Face of Conception".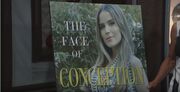 On June 29, the company launches a collaboration with Crimson, for the "Year of the Mother" campaign. Valentin convinced Lucy to hire Brook Lynn on, this time as social media manager. She secretly tells Maxie that while they both work for Crimson/Deception, "Bailey" will be mere yards away at daycare in the building, allowing both of her "moms" to visit her without arousing suspicions. Maxie is grateful, and agrees to Sasha's plan for a candlelight vigil. The goal is to inform the public about missing children nationwide, and help in the search for Louise and the fugitive Peter.
In July, Maxie decides to go on sabbatical to see her maternal family at the Ramirez Hacienda in Texas. She hands her work off to Sasha - as the company is preparing to make a second pitch to Pebela. A week later, Sasha hired Gladys Corbin as an admin for the Deception offices.
On August 5, with sales doing well and products flying off the shelves, Sasha convinces Brook Lynn to take on Gladys as her assistant for sales/marketing. When asked about her work background, Gladys tells her she was in sales at "Colby Kleen", a multi-level marketing/pyramid scheme that landed it's CEO in jail. Gladys then orders expensive food on the company card and insults a potential customer.
During Christmas of 2021, Deception decides to launch an IPO, with the legal help of Martin Grey.
Gallery & Videos
v - e
Locations


Cities, Towns, and Neighborhoods
Asian Quarter Neighborhood
 ·
Beechers Corners, New York
 ·
Bensonhurst Neighborhood
 ·
The Catacombs
 ·
Corinth, Pennsylvania
 ·
Llanview, Pennsylvania
 ·
Nixon Falls, Pennsylvania
 ·
Pautauk, New York
 ·
Pine Barrens Forest
 ·
Pine Valley, Pennsylvania
 ·
Port Charles, New York
 ·
Queens Point Neighborhood
Residences
Ashford Condo
 ·
Baldwin Penthouse
 ·
The Brownstone
 ·
Charlie's Pub Office Apartment
 ·
Collins House
 ·
Davis House
 ·
Devane Manor
 ·
Falconeri House
 ·
Falconeri-Corinthos Safe House
 ·
Finn Apartment
 ·
Greystone Manor
 ·
Harborview Towers
 ·
Jacks Lake House
 ·
Jones Apartment
 ·
The Quartermaine Mansion
 ·
Reeves Penthouse
 ·
Robinson House
 ·
Secondary Corinthos Safehouse
 ·
Spencer Mansion
 ·
Winslow Garden Apartments
 ·
Wyndemere Castle
Medical Facilities
D'Archam Asylum
 ·
Ferncliff Asylum
 ·
Freedman Clinic
 ·
General Hospital
 ·
Mercy Hospital
 ·
Miscavige Institute
 ·
Port Charles County Secure Psychiatric Facility
 ·
Turning Woods Longterm Care
Businesses
Aurora Media
 ·
B/N Department Store
 ·
Black Duck Distillery
 ·
Cassadine Industries
 ·
Corinthos Coffee
 ·
Crimson Magazine
 ·
Deception Cosmetics
 ·
Eckert's Bakery
 ·
ELQ
 ·
The Haunted Star
 ·
Jerome Gallery
 ·
Marta & Chloe
 ·
Metro Court Hotel
 ·
Volonino's Gym
 ·
Xtreme Motors
Restaurants, Bars, and Clubs
Beradino's
 ·
Charlie's Pub
 ·
Haven Bistro
 ·
Kelly's
 ·
Metro Court Restaurant
 ·
Noodle Buddha
 ·
Perks Coffee
 ·
Port Charles Grill
 ·
Pozzulo's
 ·
The Savoy
Education and Organizations
Alliance to Save Exploited Children
 ·
Community Center
 ·
Dawn of Day Cult
 ·
Lila's Kids Summer Camp
 ·
Madison Preparatory School
 ·
Port Charles Academy Preschool
 ·
Port Charles Elementary
 ·
Port Charles High School
 ·
Port Charles University
 ·
Queen of Angels Elementary School
 ·
Sunshine Girls
 ·
True Believers
Other Locations
All Saints Chapel
 ·
Art Studio and Loft
 ·
Baldwin Law Firm
 ·
The Bank of ELQ
 ·
General Hospital Chapel
 ·
Harbor View Inn
 ·
Lookout Point
 ·
Mason, Petrovich, and Miller
 ·
Metro Court Pool and Spa
 ·
Pickle-Lila
 ·
Port Charles Airport
 ·
Port Charles Country Club
 ·
Port Charles Courthouse
 ·
Port Charles Emergency Services
 ·
Port Charles History Museum
 ·
Port Charles Police Department
 ·
The Port Charles Press
 ·
Port Charles Woodlawn Cemetery
 ·
Rice Manor
 ·
Rice Park
 ·
Rice Plaza
 ·
Roger's Reptile Round Up
 ·
St. Timothy's Catholic Church
 ·
Sub-basement Laboratory
 ·
The Waterfront
 ·
Woodbridge Motel
 ·
WLPC
 ·
WXPC
Outside Port Charles
Andy's Roadside Diner
 ·
Art Loft
 ·
The Bar 65
 ·
Beechers Corners Police Department
 ·
Bensonhurst Church
 ·
Blue Cape Police Department
 ·
Boronsky Clinic
 ·
Bridgeport Café
 ·
Brooklyn Union Pub
 ·
Canada Health Care
 ·
Canadian Lighthouse
 ·
Cartullo Couture
 ·
Cassadine Barn
 ·
Cassadine Compound
 ·
Cassadine Island
 ·
Caulfield House
 ·
Celestial Heights Manor
 ·
CoeCoe Cosmetics
 ·
Compound Prison
 ·
Corinth Outlet Mall
 ·
Corinthos Cabin
 ·
Country House
 ·
Crichton-Clark Clinic
 ·
D.E.A.
 ·
Die Klinik den Geist zu Heilen
 ·
DVX
 ·
Ecole Internationale De Chatel
 ·
F.B.I.
 ·
Flatland Federal Prison
 ·
Frankie's Bar
 ·
Gatlin's
 ·
Gene's Branford Roadhouse
 ·
Geneva WSB Facility
 ·
Green Briar Federal Penitentiary
 ·
The Island
 ·
Ithaca WSB Facility
 ·
Jacksonville Brothel
 ·
Llantano County Courthouse
 ·
Llantano Valley Commercial Properties
 ·
Le Lucien Hotel & Casino
 ·
Malkuth
 ·
Manhattan North Hospital
 ·
Marick Clinic
 ·
Military
 ·
Mountain Landing Longterm Care
 ·
New York Methodist Hospital
 ·
New York Police Department
 ·
Niagara Equities
 ·
Nixon Falls Clinic
 ·
Nixon Falls Firehouse
 ·
Nixon Falls Garage
 ·
Nixon Falls Park
 ·
Oak Hill Convalescent Home
 ·
Panopolis Taverna
 ·
Pautauk Woods
 ·
Pebela Cosmetics
 ·
Pentonville Penitentiary
 ·
Primary Corinthos Safehouse
 ·
Ryan's Bar
 ·
Sawyer High School
 ·
Shadybrook Sanitarium
 ·
Shriners Hospital for Children
 ·
Silver Water Aftercare
 ·
Spring Ridge Prison
 ·
Steinmauer Prison
 ·
S.W.A.T.
 ·
The Tower
 ·
Triple L Diner
 ·
Undisclosed Safehouse
 ·
U.S. Consul
 ·
Vanderbilt University
 ·
Vermont Safehouse
 ·
Whispering Pines Spa
 ·
Whitaker Farm
 ·
World Security Bureau
Former Businesses & Locations
The Acorn Motel
 ·
Archer's Pavilion
 ·
Bamboo Bar
 ·
Body Heat
 ·
Bradley Ward House
 ·
Bucket O' Blood
 ·
The Campus Disco
 ·
The Cellar
 ·
Club 101
 ·
The Croydon Hotel
 ·
Deception Health Spa
 ·
Donely Shipping
 ·
Duke's Club
 ·
Emily Bowen-Quartermaine Memorial Clinic
 ·
Equinox Corporation
 ·
The Floating Rib
 ·
Forest Hills Sanitarium
 ·
Gemini Jazz Club
 ·
Green Meadows Spa
 ·
The Invader
 ·
Jason's Bike Shop
 ·
Ko Shing
 ·
L&B Records
 ·
Luke's Blues Club
 ·
Luke's Place
 ·
Luzetta's Bakery
 ·
McCall and Jackal Private Investigations
 ·
Mount Hebron Church
 ·
Nite Lite Motel
 ·
The Oasis
 ·
The Outback
 ·
The Paradise Lounge
 ·
Pawn Shop
 ·
Pine Circle Sanitarium
 ·
Port Charles Hotel
 ·
Port Charles Women's Clinic
 ·
Queen of Angels Church
 ·
Recovery Room
 ·
Rendezvous Motel
 ·
Roselawn Sanitarium
 ·
Sonny's Coffee Shop
 ·
Stay Cool Teen Center
 ·
The Tan-O
 ·
Tea House
 ·
Teen Time Sports Center
 ·
Vaughn's
 ·
Versailles Room
 ·
Waterfront Clinic
 ·
Wyndham's Department Store