Wiki Targeted (Entertainment)
Play Sound
Franco Baldwin and Nurse Elizabeth Webber-Baldwin are fictional characters and a popular couple from the ABC daytime soap opera General Hospital. They are a popular supercouple, according to Fame10.[3]
Background
Franco has been portrayed by actor Roger Howarth since May 13, 2013. The role was originated by James Franco (2009-12).

Roger was first cast as Kent Winslow on the ABC soap opera Loving in 1992, but the role was short-lived. Later that year, he was cast in what was intended to be another short-lived role, Todd Manning, on ABC's One Life to Live. Roger is best known for his portrayal of Todd, which he played on and off from 1992 until 2003, when he left and moved to CBS' soap opera As the World Turns to play Paul Ryan.

In 1994, Roger won a Daytime Emmy Award in the Outstanding Younger Actor in a Drama Series category for her portrayal of Todd.

Roger returned to OLTL and to the role of Todd in May of 2011, and remained with the show until it's finale in January of 2012. During that time, he also played the role of Todd's identical twin brother, Victor Lord, Jr., in two episodes during flashbacks.

Howarth transferred his OLTL role to GH along with fellow OLTL actors Kristen Alderson and Michael Easton and was put on contract with General Hospital in 2012. He left GH on the mandated break with last airing on March 20, 2013 as Todd Manning and used the time to tape scenes for OLTL. He returned to GH to tape his new scenes as his new character, the recast of sinister Franco with a first air date of May 13th and character's identity being confirmed on May 29, 2013.

Actress Rebecca Herbst originally auditioned for the role of Sarah Webber. Although she did not get the part, General Hospital created the role of Sarah's sister, Elizabeth for Herbst to play, and she debuted on August 1, 1997.[4]

In 1999, the role earned Herbst the Soap Opera Digest Award for Outstanding Younger Lead Actress, as well as an Emmy Award nomination for Outstanding Younger Actress in 1999 and a nomination for Outstanding Supporting Actress in 2007.

The song for Franco and Elizabeth was an ABC original called Perfume Smoke, performed by Axel Mansoor.

In an interview, Herbst said that "Friz is the first relationship that Elizabeth has actually made the decision, like a logical, adult decision, to be with a man. She has chosen to be with Franco and she has no mixed emotions". Also she claims that "I couldn't be more pleased with the way that Jean and Shelly write this couple. Elizabeth has finally figured out who she is and what she wants out of life; her boys are first and now she's found a man who wants to put her boys first and it just works."

In August 14, Executive Producer Frank Valentini assured Michael Fairman in an interview that Franco and Liz's wedding will be "explosive and hilarious".[5]
Franco is the son of attorney, Scott Baldwin and super villain, Heather Webber and the illegal adoptive son of Betsy Frank. He is also the grandson of one of the shows original characters, the late, Lee Baldwin and a member of the Baldwin family.

Elizabeth is the daughter of Dr. Jeff Webber and his wife, Carolyn[6] Webber. She is also the granddaughter of one of the shows original characters, the late, Dr. Steve Hardy and a member of the Webber family.

Franco and Elizabeth had a tumultuous beginning -- as Franco did with most people in town, but after it was revealed that Franco's former crimes and misdeeds were the results of a tumor affecting his actions and ability to make decisions, Elizabeth became open to learning more about who Franco is as a person now.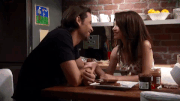 In late 2015, after her broken off engagement with Drew (then believed to be Jason), Franco began to show some sympathy towards her knowing what it feels like to be alone and decided to help her move on from "Jason" so she can be her own self again; taking her to the nutcracker charity ball to help her forget about her pain by having fun. She was hesitant to embrace his sympathy because of his horrendous crimes in the past mainly of when he kidnapped her newborn baby Aiden back in 2010.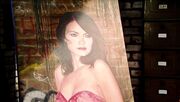 In early 2016, her interest in him began after Franco offered to treat her son Jake's PTSD with art therapy. Franco and Jake grew close and Franco and Elizabeth became friends, spending more time together and getting to know each other more and more. While dealing with some problems in his relationship with his girlfriend Nina Reeves, because of his insistence in not wanting a child, in June 22, 2016, Franco and Elizabeth shared their first kiss. Soon afterward, Nina and Franco broke up after realizing he is beginning to fall for Elizabeth and spending more time with her and her son Jake. Over time, Franco and Elizabeth begin to fall in love with each other.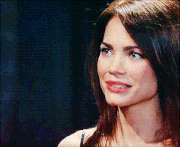 During their first date on August 1, Franco showed her his painting of her and she was mesmerized by him. She felt tremendously flattered that she was his inspiration for the painting reminded her of a Renoir. She felt something special between them, something she confessed to Dr. Griffin Munro the day after. They learned that they both share a love for art and painting.
At first, Elizabeth was worried of getting involved with him given his past and how unrealistic it is for them to have a relationship. But soon, in August, Jake helped her realize how happy he makes her, and on August 24, she decided to give their relationship a chance. Oddly enough, Franco's mother Heather approves of their relationship, most likely because Elizabeth is the daughter of her old love, Dr. Jeff.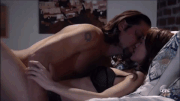 In late December, Franco was placed as a suspect in the murder of Elizabeth's rapist Tom Baker. Despite all the evidence pointing at him, Elizabeth continued to believe in him and she soon learned through her own investigation that Tom's brother Seth was the real killer. In February 2017, Franco saved her from Seth, when he was about to murder her to cover his tracks. In February 3, during his recovery, Franco and Elizabeth confessed their love for each other, and they finally gave into their passion and made love for the first time.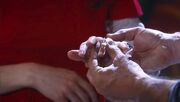 Franco continued to help Jake when he started to remember his time on Cassadine island and he comforted Elizabeth after she saved her son from Helena's influence. In August 2017, when he came back from his trip from New York, Franco moved in with Elizabeth and her boys. In April 2018, Elizabeth began helping Franco recover after learning he was molested as a child, sharing with him about how she slowly recovered from being raped and how she will stick by him no matter what.
Franco started off bonding with Jake, but he now has a good relationship with all three of Elizabeth's sons and they live together as a family, often taking outings and celebrating holidays together.
Franco and Elizabeth got engaged on December 4, 2017, after Elizabeth proposed to Franco at General Hospital.
On December 7, Franco plans a re-proposal to make the moment more romantic. This time he proposes to Elizabeth in his art studio and presents her with a ring and she passionately says "yes." Their wedding is set for November 2018, after their wedding in March failed. Unfortunately, once again they postponed their wedding once again after learning of the murder of Kiki Jerome. In February 14, 2019, on Valentine's Day, they finally got married at the PCPD, with Drew being their minister.
The couple have been to four 
Nurses' Ball
's together, 2016, 2017, 2018, 2019, and 2020.
Storylines
Classic quotes
Wedding Vows
Elizabeth (to Franco): "'I didn't know what to expect when you came into my life. I would have never guessed that you would be the one who would teach me the most important lesson that I would ever learn - that love is completely, unabashedly insane. And the craziness of all of it, is what makes it so beautiful. You freed my soul and for that I am forever grateful. And I vow to just love you and honor you and cherish you until death do us part."
Franco (to Elizabeth): "I love you, that's it. It's all I got. Hope it's enough. I just so love you, so I'm totally down for more loving, cherishing and honoring. I love you Elizabeth Imogene Webber, so yeah ... till death do us part."
Photos and videos
Franco and Elizabeth got engaged on December 4, 2017, after Elizabeth proposed to Franco at General Hospital. On December 7, Franco plans a re-proposal to make the moment more romantic. This time he proposes to Elizabeth in his art studio and presents her with a ring.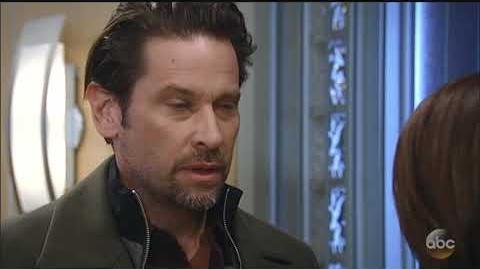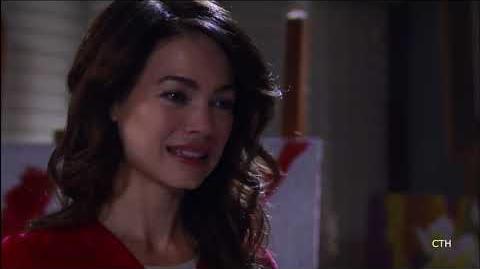 Franco and Elizabeth were officially married at the PCPD by Drew Cain on February 14, 2019. Five months into their marriage, they finally celebrated their nuptials with a reception at The Haunted Star surrounded by family and friends on July 8, 2019.
References
Community content is available under
CC-BY-SA
unless otherwise noted.