Franco Baldwin and Nina Reeves are fictional characters and a fictional couple on the ABC daytime soap opera General Hospital.
Casting and Music
Franco has been portrayed by actor Roger Howarth since May 13, 2013. The role was originated by James Franco (2009-12).
The role of Nina was originated by veteran soap actress, Michelle Stafford on May 1, 2014.
When the couple made love for the first time in January 2016, the song "Tell Me One Thing" by Rie Sinclair, was played for them.
Background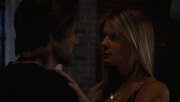 Franco is the son of attorney, Scott Baldwin and super villain, Heather Webber.
Nina is the daughter of the late, Mr. Reeves and his widow, the late socialite, Madeline Reeves.
Franco was the second man she slept with, her late ex-husband, Dr. Silas Clay being the first.
Storylines
Franco and Nina met for the first time in Rafe's room when he walks in on her yelling at a brain dead Rafe. They meet again in his art therapy room. They eventually get stuck in an elevator together where he finds out that she can walk.
Photo gallery
References