Griffin Munro and Kiki Jerome are fictional characters and a former couple on the ABC daytime soap opera, General Hospital.
Casting
Actor Matt Cohen originated the role in 2016 and portrayed him until 2019. Cohen's casting came on the heels of the soap losing one of its longtime leading male doctors, and the character's introduction would help replenish the hospital.
Actress Kristen Alderson originated the role from May 2013 to February 2015. It was announced, on January 23, 2015, that actress Hayley Erin would be Alderson's replacement. She started in February 2015 and made her last appearance in November 2018. She made a brief return in a dream in 2019.
Background
He is the son late mobster Duke Lavery and his old flame, the late Margaret Munro.
Kiki was the daughter of the late, Dr. Silas Clay and his ex-mistress, mobster, Ava Jerome. She was conceived during an affair her parents had while her father was married. She was formerly believed to be the daughter of Franco Baldwin, due to Ava's lies.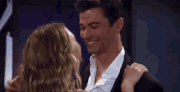 On May 21, 2018, Griffin and Kiki give into their attraction and sleep together.
On October 4, 2018, they admitted they were falling for each other and wanted to be together. They have their first date on October 16, and are lovers thereon.
On November 22, 2018, Kiki was murdered by her mother's lover, psychotic serial killer Ryan Chamberlain posing as his twin brother Kevin Collins. A devastated Griffin left town on March 22, 2019 once Ryan had been arrested.
Storyline
Griffin and Kiki meet, get along very well, and start to get close.
On Christmas 2017, they stand close, quietly plotting together, with Griffin's arm around her to keep her close. This moment does not go unnoticed by Ava, Kiki's mother and Griffin's girlfriend. She later spies them talking at the hospital, excited about something moving forward, and she is suspects they are secretly cheating on her together.
On New Years Eve, Griffin and Kiki discuss keeping secrets from Ava, with Kiki happily proclaiming it to be worth it, as they hug. Ava, who is at the hospital, sees this and confronts them. They lash out at each other and Kiki recommends she get counseling, for trying to control her life and walks away. Ava admits to Griffin that she thinks he is going after the young and beautiful Kiki, that she can't compete with that. Ava rushes home and Griffin follows. He realizes she's accusing him of having an affair with her daughter, that Ava is acting insecure and pathetic.
On February 15, 2018, Griffin comes to help Kiki who drank way too much, and while Griffin is trying to help her get to bed, they end up in a compromising position which Ava walks in on.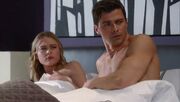 On April 24, 2018, after witnessing Bensch act inappropriately towards Kiki, she breaks down and Griffin comforts her in a hug. This act is seen by Bensch who takes a picture of it with his phone, to use a leverage later.
On May 21, 2018, following the Nurses' Ball, Kiki and her mother's on/off boyfriend Griffin go up to his room at the Metro Court Hotel, where they drink, dance, and end up having sex. They vow afterword to never tell Ava.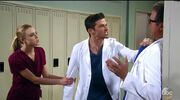 In August, Kiki sues Bensch for harassment. They go to trial, and Bensch wants his lawyer, Scott Baldwin, to use an incriminating photo of Griffin and Kiki in his defense. Scott, acting against his client Bensch's interests, tells his son Franco that he overheard Griffin and Kiki talking about their one night stand. Franco attempts to tell Alexis, accidentally tells Ava instead, and is run out of court for being disruptive. A furious Ava confronts Scott, who reluctantly gets Griffin to admit under oath that he and Kiki had sex.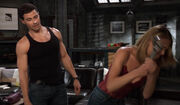 In September, Griffin has to move into the studio at Kiki's apartment after Ava got him fired from GH. When the heat breaks, he and Kiki find themselves hot, sweaty, and scantily clad in her apartment. They grow closer, share stories about films and their annoyance over Ava, and their attraction grows deeper.
On September 28, Maxie invites Kiki to be in the next issue of Crimson in a fashion spread, to continue sharing her story, empowering women to own their beauty and strength, and show other girls they don't have to put up with harassment.
Griffin encourages her to do the article, and they go to lunch at the Rib, a way of Kiki saying thank you.
On October 4, Kiki runs into Griffin at the gym. She admits that she wanted to sleep with him the night of the Ball, and that she still wants to be with him. He wants the same, and the kiss, beginning a new relationship. They agree they want something more than revenge against Ava or uncontrollable lust - but rather something they could make last. They agree to a first real date at the upcoming Port Charles Film Festival at the Metro Court.
On October 16, after attending the festival, they go back to Kiki's apartment where they watch a musical, then make love.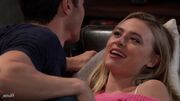 On November 9, at Kiki's apartment, they get distracted while studying and end up in bed.
On November 20, Ava drugs Sasha and knocks out Griffin, setting the scene of them in bed together at the Metro Court, in her revenge against the couple. Kiki finds them, Griffin notices Sasha was drugged, and they quickly realize that Ava is behind it all.
On November 26, while getting ready for
Curtis and Jordan
's wedding, they discuss Ava's extreme revenge strategy, then make love on Kiki's couch. Griffin has to go to GH and sign documents from the board - before he leaves, they make plans to get away somewhere warm for the holidays. They kiss, he leaves, and
Ryan Chamberlain
shows up shortly after, and murders Kiki.
Gallery
References
↑

Kiki was originally born 1992, but her birth year was later changed to c1993, which would have made her about 20 when she met Morgan.