Jurassic World: Dominion Dominates Fandom Wikis - The Loop
Play Sound
Hamilton Finn and Anna Devane are fictional characters and a formerly engaged couple on the ABC daytime soap opera, General Hospital.
Casting
The role of Hamilton Finn has been portrayed by Michael Easton since March 21, 2016. Easton is known for his roles as Caleb Morley (aka Stephen Clay) defunct spinoff Port Charles (2001; 2002-03), John McBain on the now canceled ABC soap opera One Life to Live (2003-12) and General Hospital (2012-13) and Silas Clay on General Hospital from May 13, 2013 until the character's death in August 2015.
Anna has been portrayed by actress Finola Hughes, on and off, from 1985 to 2008 and she later returned to GH in February 2012 and has been on ever since.
Storylines
In September 2017, Finn and Hayden were supposed to get married but Hayden suddenly left town after leaving a note for him. She said she had lost their baby. It was clear that she did not but Finn didn't find out for a few years. Anna Devane blackmailed Finn into helping her take down Cassandra Pierce and they had to pretend to be a couple but they eventually grew closer.
On January 2, 2018, Finn confronted Cassandra after she had kidnapped Anna and she eventually drugged him by blowing her drug powder in his face. He fought her but he needed medical attention and at the hospital he told Anna he killed her but she told him that he did not. She told him Cassandra was drugged and ended up in a coma. On January 24, Cesar Faison held Finn at gunpoint in Anna's house and confronted him but Anna saved him. She knocked him out for his own protection. Later on she woke him up and made sure he was okay. After Faison had been shot by Jason Morgan, Finn did his best to keep Faison alive despite everything he's done even though he didn't care if he lived or died. He let Anna know how he felt and she pushed him away "for his own protection."
He started a friendship with Alexis Davis during the group meetings they attend to together.
On March 13-14, after punching Julian Jerome for touching Roxy he was arrested by his half-brother Harrison Chase but was later released when Julian dropped the charges.
Over the next few months Chase tried to bond with Finn who initially wanted nothing to do with him, however he later confessed that he didn't have a problem with him, he had a problem with their dad who got married again so soon after Finn's mom died. Despite Finn's initial feelings about Chase, in the coming months he softened towards him and they now have a good brotherly relationship. At the 2018 Nurses' Ball, Finn confessed to Anna that he still cared about her and Alexis overheard. He then started a relationship with Anna but felt bad about breaking Alexis' heart even though she knew he never got over Anna.
On August 3, Finn was kidnapped by the same people who had kidnapped Anna several weeks before. It was revealed that Anna was bait for Finn so that he could bring Cassandra Pierce out of her coma, which he accomplished. Finn and Anna then told her that they woke her up so she could help them figure out who their captors are. They also told her that she contracted a rare infectious disease and then they said that if she helped them then Finn would treat her but if she didn't then they would put her back in a coma. She eventually agreed to help them and pretended to be in a coma while Finn and Anna tricked their captors into drinking spiked "drugs" as part of their plan to escape. Chase and Robert Scorpio found Finn and Anna and they all escaped as Cassandra was kidnapped by a mysterious man wearing a Cassadine ring.
On October 29, Finn and Anna visited Britt Westbourne in Pentonville and they offered her a deal. She would get out of prison early and score her freedom in exchange for helping them catch her mother Dr. Obrecht who was on the run for kidnapping Peter August and holding him captive for almost two months. She agreed to the deal and Finn made Britt "sick" by giving her a drug of some kind.
In November 2018, Finn got a letter from Hayden who asked him if he could meet her in Rome. Finn decided to go to Cuba with Anna instead to help her catch Obrecht.
On January 11, 2019, Anna was brought to the hospital after suddenly going blind and Finn worked with Griffin to determine the cause. On January 15, Anna's sight was restored and it was revealed that she had a virus dormant in her body called HN-242 and it caused vitreous hemorrhaging which caused her to lose her sight but he neutralized the virus and there's no chance of re-occurance in her. Robert returned to Port Charles on January 25, and gave Finn some intel on why Anna suddenly went blind and their search lead them to Dr. Arthur Cabot in Sweden who was revealed to be a patient due to having the HN-242 virus as well. They learned that Anna was part of his original study of transferring memories from one person to another and that study was done on identical twins.
On March 18, Finn rushed into a hospital room since he got a text saying Anna had been admitted and he saw Anna had gone blind again but then he found out that the blind "Anna" on the bed was actually her twin sister Dr. Alex Devane. Finn went along with Anna who told Alex that if she told her which memories in her head are false ones then he would treat her. Alex initially stalled but then said that the memory of leading Boris Mikhailov into an ambush was the false memory. Finn treated her and restored her sight and she hinted that she may have lied about the false memory. On April 8, Robert confirmed that she had indeed lied about the memory. Finn was Anna's sounding board as she feared she wasn't Robin's mother but then eventually saw that Anna found proof that she was indeed Robin's mother, not Alex.
In April 2019, Finn bought a sapphire engagement ring and was going to propose to Anna but the timing was never good as something always came up. Robert eventually ended up with Finn's ring.
In May 2019, Finn demanded Robert to give back the ring but he didn't know Robert had lost it by accident. Finn got a knockoff of the ring he bought from Robert but automatically knew the difference. At the 2019 Nurses' Ball, Finn found his ring on Yvonne Godfrey who had Alzheimer's and Finn asked Sonny for help. Finn and Sonny then told Sonny's dad Mike Corbin that he bought a knockoff ring but it was a lie to keep Mike from having a meltdown since he also had Alzheimer's. Finn switched rings with Mike who gave Yvonne the fake ring while Finn got the real one back. As Anna was on stage the ring was thrown out towards her and Finn went up to her, got down on one knee and nervously proposed to her and she said yes. Everyone cheered for Finn and Anna as they got engaged and then the two of them celebrated with their friends and family congratulating them.
On July 2, Finn was talking to Anna and he learned that Alex escaped from Steinmauer and that she was going to be the one to find her and bring her in. He also mentioned to Chase that Cassandra Pierce was still out there.
On July 8, Finn was surprised to see that his ex-fiancee Hayden has returned to Port Charles and that she crashed Franco and Elizabeth's wedding party.
On October 23, Finn was called into work to treat a little girl who was sick and Hayden revealed that the patient is their daughter. After Finn got to know Violet a bit, got her fever down and promised to help her feel better, Finn confronted Hayden about lying to him about the miscarriage, especially since she robbed him of the first couple years of Violet's life.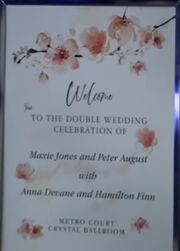 Finn got engaged to Anna and they rescheduled the first date and plan to have an August 2020 wedding. The wedding is rescheduled again to January 2021 and will be a double wedding with Peter and Maxie. After many preemptions and impeachment interruptions, the double wedding will now take place on the first week of March 2021 in the Metro Court Crystal Ballroom.
On March 4, 2020, the wedding is interrupted by first Liesl Obrecht, then Valentin Cassadine, both exposing Peter's many crimes, as well as the truth that he is Alex Devane's son. Maxie has braxton hicks contractions and is rushed to the hospital, while the guests turn on Peter, knowing the truth of who he is. Finn runs out, angry that Anna kept the truth of Peter's maternity from him but schemed with Valentin. Peter is able to get away, vowing vengeance upon all who deceived him, especially Anna and Valentin, as well as a commitment to embracing the darkness of his parents.
The next day, the truth of his one night stand with Jackie Templeton 9 months before Chase's birth comes out, as do the results of the paternity test - Finn's his father. Months later, after Chase is accidentally poisoned, it is revealed that Cyrus Renault switched the test results - Gregory is Chase's father, and Finn is his brother.