She-Hulk Trailer Dropped - The Loop
Play Sound
Hamilton Finn and Elizabeth Webber are fictional characters and are currently dating on the ABC daytime soap opera General Hospital.
Casting
The role of Hamilton Finn has been portrayed by Michael Easton since March 21, 2016. Easton is known for his roles as Caleb Morley (aka Stephen Clay) defunct spinoff Port Charles (2001; 2002-03), John McBain on the now canceled ABC soap opera One Life to Live (2003-12) and General Hospital (2012-13) and Silas Clay on General Hospital from May 13, 2013 until the character's death in August 2015.
Actress Rebecca Herbst originally auditioned for the role of Sarah Webber. Although she did not get the part, General Hospital created the role of Sarah's sister, Elizabeth for Herbst to play, and she debuted on August 1, 1997.[4]
In 1999, the role earned Herbst the Soap Opera Digest Award for Outstanding Younger Lead Actress, as well as an Emmy Award nomination for Outstanding Younger Actress in 1999 and a nomination for Outstanding Supporting Actress in 2007.
Background
Finn is the son of Gregory Chase and Jean Finn Chase and the half-brother of Port Charles Police Detective, Harrison Chase.
Elizabeth is the daughter of Dr. Jeff Webber and his wife, Carolyn[5] Webber. She is also the granddaughter of one of the shows original characters, the late, Dr. Steve Hardy and a member of the Webber family.


Storylines
Finn and Elizabeth met in 2016 as colleagues at General Hospital. The two had a cordial and professional working relationship that turned into a friendship when Finn became involved with Elizabeth's sister Hayden Barnes.
After the birth of Finn and Hayden's daughter, Violet, Finn and Elizabeth began to see and depend on each other as family. Elizabeth supported Finn and Violet after Hayden was forced out of town by Nikolas Cassadine. Likewise, Finn was there for Elizabeth after her husband, Franco Baldwin was killed by Peter August.
Finn and Elizabeth grew closest in 2021 after Finn's brother Harrison Chase was poisoned by Peter in retaliation against Anna Devane. Elizabeth supported and assisted Finn as he sought a cure for the toxin that was killing Chase.
On June 3, 2021, at his wits end, Finn confronts Peter on the roof of General Hospital as he was trying to escape. He demands the antidote that Peter had been rationing out to Anna. Peter throws the vial over the side of the roof and claimed it was the consequence for Anna's actions. Finn chases Peter and their fight ends with Finn pushing Peter down the stairs in a rage.
Elizabeth finds them in the stairwell and after checking Peter's pulse, they realize that he is dead. Finn, remorseful and angry that he just killed the only person he through capable if saving Chase, is ready to turn himself into the police. Elizabeth, knowing that Finn is Chase's best chance, talks him down and convinces him not to turn himself in. Instead, she proposes that they get rid of Peter's body and keep his death a secret.
Finn is reluctant but eventually agrees and they use the rooftop elevator to move Peter's body down to the sub-basement of General Hospital where they stash it in a large freezer.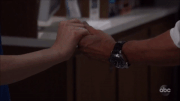 Afterward, Finn gets back to work on finding a cure and locks himself in his lab for days, sometimes with Elizabeth as they worked on finding the cure. After a major setback, Finn is depressed and ready to turn himself into the police again, but Elizabeth comforts him, reassuring him that he is still Chase's best chance. During these encounters, the attraction between them grows. Finn continues his work and just as he is about to give up, he has an odd encounter with Cyrus Renault.
It's from this encounter that Finn is clued into the fact that the paternity test on him and Chase was tampered with and he is likely Chase's brother and not his father. Armed with this new information, he works on formulating the cure.
Meanwhile, Elizabeth runs interference with Anna who is on the rooftop trying to figure out how Peter "escaped."
On the Fourth of July after Chase's surprise party at Charlie's Pub, Finn and Elizabeth watched the fireworks together at The Waterfront. During their time together, Finn admitted to Elizabeth how much she means to him.
References