We're Getting Mutants in the MCU - The Loop
Play Sound
Jason Morgan and Dr. Britt Westbourne are fictional characters, a popular pairing from a one-night-stand on the ABC Soap opera General Hospital.
Casting
Jason Morgan has been portrayed by Emmy-award winning actor Steve Burton on and off from 1991 until 2012.

In 2014, the role was recast with Emmy-award winning actor Billy Miller, who made his first appearance as Jason on October 1, 2014.

In 2017, when Burton returned to GH as Patient 6, it was revealed that he reprised the role of Jason while Miller's version of Jason was retconned as Jason's twin, Andrew Cain.

In 2012, Kelly Thiebaud joined the cast of GH as Britt Westbourne and she portrayed the character from September 19, 2012 until December 8, 2014.

Thiebaud made short returns in 2015, 2017 and 2018.

Thiebaud reprised the role once again for a short arc which ran from March 11 to April 1, 2020. She returned again on September 11, 2020 for a longer stint this time.

Background
Jason Morgan is the son of the late Dr. Alan Quartermaine and his late mistress, Susan Moore and the adoptive son of Dr. Monica Quartermaine.
He is the identical twin of former Navy SEAL Chief Andrew Cain.
Dr. Britt Westbourne was revealed be the daughter of super villains, Cesar Faison and Dr. Liesl Obrecht.
Storylines
On October 15, 2012, Jason Morgan first meets Britt Westbourne when his son Danny is brought back to Sam McCall after the baby switch. Britt does the exam at GH to make sure Danny is healthy. She says they need to keep him overnight at the hospital but he should be fine to go home tomorrow. She also needs to get his medical records from Llanview. Jason asks Britt if there is anything they are looking for. She says they just want to see if he needs any immunizations or if there are any other health issues they should be aware of.
On December 8, 2017, Jason and Sonny break into Faison's apartment and find his daughter Britt. They ask her where Faison is. Britt claims she doesn't know. Jason gets Britt up-to-date on what her father did to him and his twin. She knows about some of what happened with Drew and tells them that Faison left and how Dr. Klein was working for the traitor.
On September 11, 2020, Britt returned to Port Charles again and it was revealed that the new chairman Cyrus Renault appointed her to be the new Chief of Staff at General Hospital, much to the surprise and dismay of others. Britt demoted Epiphany to an administrative position and cut Elizabeth's time in the hospital down to two shifts a week.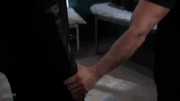 On October 7, Jason comes to GH for a follow-up exam to a motorcycle accident. Epiphany complains about new Chief of Staff Britt Westbourne to Jason and she comes over to talk to him. She is sarcastic with him but he suggests that Britt do the exam. Epiphany asks him what he is up to when they are alone and he explains that he needs to see if Britt is really who Cyrus thinks she is.

After an exam on Valentines Day 2021, Jason keeps coming back to GH to work with Britt on finding out what Cyrus is up to with a new drug he is trying to get released. Jason starts to trust Britt and even smiles when she asks if he wants to help deliver candy to children on Valentines Day.

On March 26, Britt visits Jason in jail under the pretense of checking on his head injury. They discuss how her brother killed Franco and framed Jason, that Cyrus is now helping Peter, and that Jason could be in serious trouble. Britt worries about him, causing her hand to shake, which Jason notices. They share a moment when he holds her hand, and confesses to her that he sees her selflessness, even with the tough act she puts on.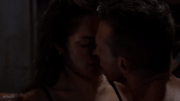 In May 2021, Jason and Britt grow closer as he saves her life from Cyrus' henchmen while escaping custody. Britt tells Jason she might have Huntington's and she patches up his wound as they hide in a barn. Sam finds them and after giving Jason two passports, Jason sends her away and heads to Canada with Britt who insists on coming along with him.

Britt and Jason hide out in a Canadian Lighthouse and plan to stay there for a few days. Britt wants to get tested for Huntington's Disease and Jason goes with her to the medical facility using the passports.

At Canada Health Care, Britt finds out she has postural tremors and wants Dr. Gannon to test her for Huntington's.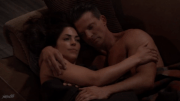 After stressing about the test and almost kissing Jason, Britt is interrupted by a call that her test is ready. She goes back to the clinic and Dr. Gannon tells her she does have the markers for Huntington's.

After returning to the lighthouse, Jason comforts Britt who is upset by the test results. He says that no one knows when they will die so you have to live in the moment. Then, they kiss and have sex.