Jason Morgan and Robin Scorpio are fictional characters and a popular former fictional couple on the ABC daytime soap opera, General Hospital.
The couple was popular for a short stint in 1997, and remain great friends to this day.
Casting
The role of Jason Morgan was portrayed by Daytime Emmy award-winning actor Steve Burton, on and off, from 1991-2012. Burton made his debut on December 19, 1991 and portrayed Jason on General Hospital for a total of twenty-one years. After leaving the show in 2000 to pursue other interests, Burton returned to General Hospital full time in May 2002. Burton exited the show again in 2012, after ten more years with the soap.
In 1998, Burton won a Daytime Emmy Award in the category of Outstanding Supporting Actor for his portrayal of Jason.
Actor Billy Miller portrayed Jason from 2014-17.
On Jun 28, 2017, Soap Opera Digest broke the news that Steve Burton would be returning to GH after 5 years. It is unknown if he will be portraying Jason, as Billy Miller is now Jason, if he will be portraying someone new or if there will be a Tale of Two Jasons.[1][2][3][4]
On August 14, General Hospital's official Twitter page announced that Burton is back on set.[5][6] On September 8, TV Line announced that Burton's first appearance would be on September 19.[7][8][9] Burton returned on September 19, as Patient 6. On December 1, it was revealed that Burton is in fact Jason and Miller is portraying his twin.
Robin has been portrayed by actress Kimberly McCullough, on and off, since the character's debut in 1985. McCullough started at the age of seven. She stayed with the series until September 12, 1996. Afterwards, she returned as a series regular for brief stints: January 17, 1997 to September 8, 1997; December 11, 1997 to January 20, 1999; June 20–21, 2000 (for The Nurses' Ball).
McCullough returned to General Hospital as Robin on July 16, 2004 for the funeral of Lila Quartermaine before rejoining the soap full-time on October 12, 2005. In November 2011, McCullough announced her plans to leave General Hospital in the early months of 2012 to pursue her dream of directing full-time.
The character was killed off on February 21, 2012, however on March 27, 2012 Robin was shown to be alive, leaving the door open for her to return. She returned and started a series of guest starring spots on July 19, 2012 and lasted until July 27, 2012.
On August 21, 2013, Soap Opera Digest exclusively confirmed that McCullough had signed a contract to return to the series. McCullough made her on-screen return on September 30, 2013. In January 2014, McCullough confirmed her exit from the series once more, last airing on March 4, 2014. She returned for short stints in 2015, 2016, 2017 and 2018.
Storylines
Robin first met Jason Quartermaine before the accident that turned him into Jason Morgan. After Jason's accident and memory loss, Robin was by his side to help him as he recovered. Jason began working for Sonny Corinthos and soon after Jason and Robin began to date. Due to the fact that Robin was HIV-positive, Jason began to sleep with Carly Roberts but Jason chose to be with Robin instead.
Jason and Carly still remained friends. Jason, working for Sonny, discovered that drugs were being imported, which caused his sister, Emily to collapse. Due to the fact that the mob was too much for Robin, the couple split up but Jason held a promise never to be romantically involved with Carly.
To help Carly, Jason pretended to be the father of her baby so that neither of the two men that she slept with could take her baby away. Robin returned to Port Charles and Jason confessed that the child was A.J.'s according to a paternity test but would still like to be the child's father until Carly can take care of her son. Jason and Robin reunited and made love for the first time.
After Robin was almost killed in an explosion, Jason left the mob. Carly was released from the hospital and began to put a strain on Jason and Robin's relationship. Robin told AJ that he was Michael's father in an attempt to free Jason and the baby from Carly. This sent Carly into depression and she left town. Jason and Robin take care of baby Michael together and bond over this time but Jason temporarily lost custody of Michael. Jason was furious with Robin for telling A.J. that Michael was his son. Their relationship deteriorated and Robin left town in 1999, moving to Paris.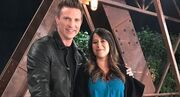 Robin returned to Port Charles to save Jason's life when he had experienced seizures. It was during this time that she teams up with Patrick Drake to perform an operation that could determine his fate. Robin was grateful to Patrick when the surgery was a success.
After saving his life, Jason and Robin mended their friendship and remain great friends to this day, leaning on and confiding in each other. They trust each other implicitly and are always there for each other.
References