Jurassic World: Dominion Dominates Fandom Wikis - The Loop
Play Sound
Johnny Zacchara and Kristina Corinthos-Davis are fictional characters and pretend lovers from the ABC daytime soap opera General Hospital.
Storylines
In 2010 during Sonny's trial for Claudia's murder, Kristina watches Johnny Zacchara tell the court that Sonny routinely beat up and abused Claudia, upsetting Kristina. The cover-up is blown when Dante surrenders Michael as Claudia's actual killer. Though it was self-defense, the judge sends Michael to Pentonville for five years. Alexis notices that Kristina is clearly affected by what Johnny says and Kristina starts seeing a therapist. Dante eventually arranges for Michael to be released on the grounds that he live with Dante and be barred from contact with Sonny, the latter of which Kristina insists is a good thing. Michael and Kristina once again get into an argument over their differing opinions about Sonny; Michael insists that Sonny really does love them, but Kristina is simply unwilling or unable to see past Sonny's flaws. When Kristina is bullied by girls at her school, Johnny pretends to be her boyfriend to make the other girls jealous.
Later on, she goes to Johnny's penthouse and tells him of her plan to anger Sonny. She says that if they pretend to date, it will really anger her dad. Johnny reluctantly agrees. Several people warn Kristina that dating Johnny is a bad idea, but she chooses not to listen. This decision literally blows up in her face when she is injured in a car bomb meant for Johnny that was planted by Sonny. Kristina furiously confronts Sonny and agrees to stay away from Johnny to protect him from Sonny, but Sonny, finally fed up with Kristina's disrespectful attitude and smart mouth, lays out several new ground rules for her: she has a curfew, is cut off from her credit cards and is to come over to his house for dinner every Tuesday. Alexis follows suit by taking away Kristina's car. When Johnny is shot by Sonny in self-defense, Kristina blames herself, remembering everyone's warnings about pseudo-dating Johnny, but Ethan insists that neither she nor Sonny are entirely at fault, explaining that everyone has both a good and a bad side, even Sonny. Kristina disagrees, but tells Ethan that, in her eyes, he is her hero and genuinely good.
On July 16, 2010, Kristina, Molly, Alexis, and Sonny get together at the country club, only to be interrupted by Kiefer's father, Warren Bauer, who who has been attempting for months to get revenge on Kristina and Alexis for Kiefer's death, who hassles them over Kiefer and vows to bring them to court. However, Sonny readily comes to Alexis and Kristina's defense and, ascertaining that abusers learn their habits from others, openly accuses Warren of having abused Kiefer himself. Though Warren denies it, his reaction suggests otherwise. After Warren leaves, Kristina talks to Sonny about Kiefer, and finally begins to see the light under the tunnel with her father.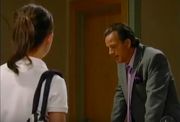 On July 23, 2010, Warren confronts Kristina at the hospital and attempts to hit her when she refuses to sign a release for her medical records. Before he can, Michael, having heard the commotion, rushes to Kristina's rescue, pummeling Warren senseless and nearly strangling him to death. Hearing Kristina's cries for help, Ethan, Maya, Lucky, and Steven arrive and break up the fight. Warren fabricates his own version of the incident and demands that Michael be arrested, but Lucky and Mac quickly deduce the truth and cleverly make it impossible for Warren to press charges. At this, Warren finally snaps and induces a shootout, critically wounding Mac and Ethan before turning his attention to Kristina. Michael nobly stands between Kristina and the gun, but before Warren can fire, Mac garners enough strength to fatally shoot him in the back. Warren uses his last words to condemn Kristina. While Mac and Ethan are being treated, Carly takes Michael and Kristina into another room. In shock, Kristina frantically blames herself for Ethan's misfortune, insisting that none of this would have happened if she had just told everyone the truth about Kiefer in the first place. However, everyone, including Ethan, reassures Kristina that Kiefer set these events in motion and he and Warren are the only ones at fault.
On November 5, 2010, Sonny is finally discovered as the one who planted the bomb in Johnny's car. Initially appearing angry, Kristina confronts Sonny, but quickly softens and forgives him before proceeding to insist that the ordeal was her fault because she was constantly warned that pretending to date Johnny was dangerous. However, Sonny takes responsibility and apologizes, stating that out of all of the mistakes he has made in his life, the worst was his believing that Kristina was better off without him, reassuring her that he loves her more than anything. Kristina is deeply touched by Sonny's words, and the two finally mend fences.