Wiki Targeted (Entertainment)
Play Sound
Luke Spencer and Laura Webber are fictional characters and the signature former supercouple from the American daytime drama General Hospital.[1]
Casting
Luke was portrayed by Anthony Geary from November 20, 1978 to July 27, 2015, when Geary decided to retire.
Laura has been portrayed by Genie Francis, on and off, since 1977.
Despite having been raped by a drunken Luke, Laura would later fall in love with him. Though other supercouples came before them, Luke and Laura are the most well known outside of the soap opera realm, and are credited with defining the term "supercouple," which caused other soap operas to copy the successful formula.[2][3][4]
Originally, critics of the soap opera genre panned the unlikely pairing for detailing a rape victim to have fallen in love with her rapist.[4] However, the duo became wildly popular in spite of Luke's past misdeed.
The duo wed on November 16, 1981, with 30 million viewers tuning in. The episode remains the highest-rated hour in American soap opera history.[1][5] They were married for two decades and had two children. Even today, their union still has a presence in Port Charles. On Internet message boards, the couple is often referred to as "L&L" or "LnL" (for Luke and Laura).
Background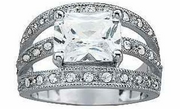 Together they have two children and five grandchildren:
A son named, Lucky, who gave them three grandsons: Cameron (adoptive), Jake (legal) and Aiden (Luke and Laura's first biological grandchild together), with his ex-wife, Elizabeth Webber.
A daughter named, Lulu, who gave them two grandchildren: Charlotte, with Valentin Cassadine via surrogate and Rocco Falconeri, with her ex-husband, Det. Dante Falconeri via surrogate.
Storylines
Wedding videos
Luke and Laura were married on November 16, 1981. They were divorced in 2001, but remarried in Lila Quartermaine's rose garden on their 25th wedding anniversary on November 16, 2006. The marriage, however, was invalid.
Photo gallery
See also
References
External links
Community content is available under
CC-BY-SA
unless otherwise noted.