This article is a stub. You can help General Hospital Wiki by expanding it.
Please remove this notice when this article is no longer a stub.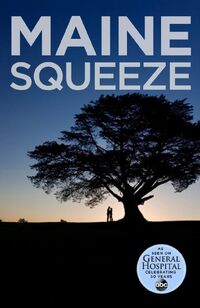 Maine Squeeze is an up-coming book to be published by Hyperion Books on August 13, 2013. On General Hospital, it is written by Molly Lansing-Davis, and is the sequel to the book Love in Maine.  It was originally slated to be released in September 2013. The book was originally listed on Amazon as being authored by Connie Falconeri, but is now listed as being authored by Molly.
GH storyline
At the book launch of Love in Maine, Connie Falconeri announces that there will be a sequel to the book.
On June 19, 2013, Molly Lansing-Davis gives Rafe Kovich, Jr. a copy of her manuscript of Maine Squeeze.
The novel's plot
Maine squeeze will follow the courtship of Stephanie and Jeff, the best pal and brother of Love in Maine's herione Maddie.
References