Spider-Man: No Way Home Trailer Dropped - The Loop
Play Sound
The Metro Court is one of the local hotels in the city of Port Charles. It is owned by Carly Corinthos, and Olivia Quartermaine, the former operations manager.
The hotel regularly hosts holiday parties, weddings, and events, such as the annual Nurses' Ball charity.
It has several sister hotels, including the Bella Maison in Montreal, owned by Carly. It also has sister hotels in Paris, other parts of Europe, and in Hawaii. It is a rival hotel of the Cosmopolitan.
History
The Hotel is built after the previous Port Charles Hotel, burns down in February 2004. Jasper Jacks buys out the place, and renames it Metro Court, in honor of his fiancée at the time, Courtney Matthews.

In March 2005, Sonny Corinthos orders a hit on the Sandoval mob organization; most of whom were staying at Metro Court. A shootout occurs at the restaurant with Jax, Courtney and Rachel Adair caught in the crossfire. Rachel was shot while Jax and Courtney managed to walk away unharmed.

After Courtney's death in February 2006, Carly Corinthos becomes Jax's partner in Metro Court.

In May 2006, another shooting occurred when Manny Ruiz attempted to shoot Jason Morgan on the terrace. Manny, accidentally hit Sam McCall instead.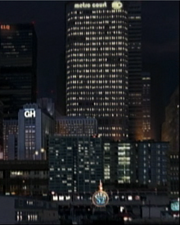 In February 2007, the hotel lobby falls victim to a hostage crisis, led by Jax's brother; Jerry Jacks, under the alias "James Craig". Jerry torments the hostages with a series of deadly games, which leads to the death of Alan Quartermaine. Robin Scorpio is shot in the stomach and is operated on by Emily Quartermaine and Carly Benson. Max Giambetti is shot in the shoulder, and Father Mateo Ruiz is shot for killing one of the mercenaries. The hotel lobby explodes as a result of the takeover and is eventually rebuilt.

In November 2009, after Sonny Corinthos discovered Claudia Zacchara was the one who hired Ian Devlin to kill him, he planned to kill her himself. He throws a lavish birthday party for Claudia at the Metro Court Restaurant, where he announced the bullet meant for him left his son Michael Corinthos in a coma for a year. Fearing her life was in danger, Claudia takes a pregnant Carly hostage at gunpoint to escape. Claudia was later tracked down and murdered by Michael.

In February 2012, after Jax leaves town, Connie Falconeri informs Carly that he has given her his share of the hotel, which infuriates Carly. Later that year Todd Manning bought out Connie Falconeri's shares and Metro Court became home to Manning Enterprises. Todd also ran a tabloid called The Sun which temporarily employed Heather Webber as a gossip columnist. When Todd left town in 2013, Manning Enterprises was discontinued and Connie re-acquired her rights to Metro Court.

The hotel is now also the location for the Nurses' Ball, which returned after twelve years of absence, in 2013.

In June of 2013, Olivia is shot on the terrace by Ava Jerome, who was attempting to murder Franco Baldwin. Just a few months later, Connie Falconeri is murdered in her office by Ava, who's initials were left written in blood.

After Connie's death, Olivia inherited her cousin's rights to Metro Court and quickly evicts mob boss and editor of Crimson, Julian Jerome. Less than a month later Sonny Corinthos leases the office for his mob and coffee business.


In December 2014, the Metro Court Restaurant was renovated with new paint and furniture. Olivia later stated the details were finalized by Carly. On New Year's Eve, Carly gives an amnesic
Drew Cain
a temporary job as a bartender.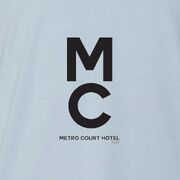 Directly after the 2015 Nurses ball, Olivia goes into labor at the hotel, forcing Patrick Drake and Sam McCall to deliver her and Julian Jerome's son, Leo.

In December 2015, Kiki Jerome became a waitress at the Metro Court Restaurant. In September 2016, Nelle Benson was hired as Carly's personal assistant, however Carly quickly fired Nelle when her true motives were revealed.

In January 2017, Nathan West and Maxie Jones hold their wedding at the Metro Court Restaurant. In July of that year, the Metro Court was also host to the wedding of Ned and Olivia Quartermaine.

In October 2017, Jason Morgan returns to Port Charles after being held hostage for 5 years. Simultaneously, Drew Cain (who was believed to be Jason Morgan) and Sam McCall hold their launch party for Aurora Media at the Metro Court Restaurant. During the party, three of Jason's captors manage to infiltrate the hotel, two of which pose as staff members. When their cover is blown, two of the captors attempt to take the restaurant hostage and Elizabeth Webber is wounded in the process. The men were later taken down and subdued by Drew, Sonny Corinthos and Dante Falconeri. While Drew took Elizabeth to the hospital, Jason managed to get to the roof of Metro Court just in time to see Sam being drugged and kidnapped by the third captor. Moving quickly into action Jason jumped through the sky roof and revealed himself in an attempt to save her.

In February 2018, when Lulu Spencer wrote an article in the Port Charles Press which revealed Nathan West was the son of Cesar Faison, Faison returned to Port Charles. After kidnapping Lulu and Liesl Obrecht, Faison goes to confront his second son Peter August at Metro Court, where he holds both Peter and Maxie Jones at gunpoint. He then shot Peter when he tried to stop him, but he was uninjured due to a bulletproof vest. When Nathan (not wearing any protection) arrived to mount a rescue attempt, Faison shot him in the chest and attempted to escape by taking Carly Corinthos hostage. However, Faison was thwarted by Jason Morgan, who shot him before he could leave the hotel. Both Nathan and Faison later died at General Hospital.

In October 2018, the hotel hosted the Port Charles International Film Festival, making use of its several screening rooms. Griffin and Kiki attended for their first official date as a couple.

In December 2018, a documentary filmmaker named Peyton Mills began working on a project about the Ryan Chamberlain murders of 25 years ago. However, Mills gets a little too close to the truth that Ryan may not have perished in that fire all those years ago causing Ryan to silent him forever, dumping Mills's body at the New Year's Eve party at the Metro Court Restaurant.


In January 2019, after
Lulu Spencer
discovered Ryan Chamberlain was indeed alive, Ryan stabs her in the office at
The Invader
. A small struggle ensued and while Ryan was temporary blinded due to a virus, Lulu was able to seek rescue and escape.
Businesses
The office of the fashion magazine Crimson is housed within the Metro Court. Crimson was run by Connie Falconeri and later Julian Jerome. In 2015, not long after Julian leaves the mob he returns to Metro Court starting a new company called Derek Wells Media. He also hires Nina Reeves as Crimson's new editor with Maxie Jones returning to job of assistant.

The office of Sonny Corinthos' company Corinthos Coffee was formerly housed at the Metro Court from 2014 to 2016.

In 2017, Julian sells Derek Wells Media to his daughter, Sam McCall and her then-husband Drew Cain, who rename it Aurora Media. Following Sam and Drew's divorce, Sam steps down and Drew later sells 50% to Jax.

In August 2018, Peter August purchases The Invader, a 'multi-news aggregator', which is housed on the 7th floor of the Metro Court as well. He also immediately hires Lulu Spencer as his star reporter and later hires Liesl Obrecht as a medical columnist.

In 2020, Lucy Coe and Sasha Gilmore partner to relaunch Deception Cosmetics, and they open an office in the Metro Court. Maxie Jones quits Crimson Magazine to join them and Valentin Cassadine becomes their silent financier.
Amenities
The hotel has many floors, and includes an indoor and both an indoor and outdoor bar. Parties are often held at the restaurant. There is also a rooftop restaurant. The hotel has an indoor and outdoor swimming pool, a spa, solarium, and ballroom. It has several screening rooms, and hosted the Port Charles International Film Festival in 2018.
Gallery
v - e
Locations


Cities, Towns, and Neighborhoods
Asian Quarter Neighborhood
 ·
Beechers Corners, New York
 ·
Bensonhurst Neighborhood
 ·
The Catacombs
 ·
Corinth, Pennsylvania
 ·
Llanview, Pennsylvania
 ·
Nixon Falls, Pennsylvania
 ·
Pautauk, New York
 ·
Pine Barrens Forest
 ·
Pine Valley, Pennsylvania
 ·
Port Charles, New York
 ·
Queens Point Neighborhood
Residences
Ashford Condo
 ·
Baldwin Penthouse
 ·
The Brownstone
 ·
Charlie's Pub Office Apartment
 ·
Chase Apartment
 ·
Collins House
 ·
Davis House
 ·
Devane Manor
 ·
Falconeri House
 ·
Falconeri-Corinthos Safe House
 ·
Finn Apartment
 ·
Greystone Manor
 ·
Harborview Towers
 ·
Jacks Lake House
 ·
Jones Apartment
 ·
The Quartermaine Mansion
 ·
Reeves Penthouse
 ·
Robinson House
 ·
Secondary Corinthos Safehouse
 ·
Spencer Mansion
 ·
Winslow Garden Apartments
 ·
Wyndemere Castle
Medical Facilities
D'Archam Asylum
 ·
Ferncliff Asylum
 ·
Freedman Clinic
 ·
General Hospital
 ·
Mercy Hospital
 ·
Miscavige Institute
 ·
Port Charles County Secure Psychiatric Facility
 ·
Turning Woods Longterm Care
Businesses
Aurora Media
 ·
B/N Department Store
 ·
Black Duck Distillery
 ·
Cassadine Industries
 ·
Corinthos Coffee
 ·
Crimson Magazine
 ·
Deception Cosmetics
 ·
Eckert's Bakery
 ·
ELQ
 ·
The Haunted Star
 ·
Jerome Gallery
 ·
Marta & Chloe
 ·
Metro Court Hotel
 ·
Volonino's Gym
 ·
Xtreme Motors
Restaurants, Bars, and Clubs
Beradino's
 ·
Charlie's Pub
 ·
Haven Bistro
 ·
Kelly's
 ·
Metro Court Restaurant
 ·
Noodle Buddha
 ·
Perks Coffee
 ·
Port Charles Grill
 ·
Pozzulo's
 ·
The Savoy
Education and Organizations
Alliance to Save Exploited Children
 ·
Community Center
 ·
Dawn of Day Cult
 ·
Lila's Kids Summer Camp
 ·
Madison Preparatory School
 ·
Port Charles Academy Preschool
 ·
Port Charles Elementary
 ·
Port Charles High School
 ·
Port Charles University
 ·
Queen of Angels Elementary School
 ·
Sunshine Girls
 ·
True Believers
Other Locations
All Saints Chapel
 ·
Art Studio and Loft
 ·
Baldwin Law Firm
 ·
The Bank of ELQ
 ·
General Hospital Chapel
 ·
Lookout Point
 ·
Mason, Petrovich, and Miller
 ·
Metro Court Pool and Spa
 ·
Pickle-Lila
 ·
Port Charles Airport
 ·
Port Charles Country Club
 ·
Port Charles Courthouse
 ·
Port Charles Emergency Services
 ·
Port Charles History Museum
 ·
Port Charles Police Department
 ·
The Port Charles Press
 ·
Port Charles Woodlawn Cemetery
 ·
Rice Manor
 ·
Rice Park
 ·
Rice Plaza
 ·
Roger's Reptile Round Up
 ·
St. Timothy's Catholic Church
 ·
Sub-basement Laboratory
 ·
The Waterfront
 ·
Woodbridge Motel
 ·
WLPC
 ·
WXPC
Outside Port Charles
Andy's Roadside Diner
 ·
Art Loft
 ·
The Bar 65
 ·
Beechers Corners Police Department
 ·
Bensonhurst Church
 ·
Blue Cape Police Department
 ·
Boronsky Clinic
 ·
Bridgeport Café
 ·
Brooklyn Union Pub
 ·
Canada Health Care
 ·
Canadian Lighthouse
 ·
Cartullo Couture
 ·
Cassadine Barn
 ·
Cassadine Compound
 ·
Cassadine Island
 ·
Caulfield House
 ·
Celestial Heights Manor
 ·
CoeCoe Cosmetics
 ·
Compound Prison
 ·
Corinth Outlet Mall
 ·
Corinthos Cabin
 ·
Country House
 ·
Crichton-Clark Clinic
 ·
D.E.A.
 ·
Die Klinik den Geist zu Heilen
 ·
DVX
 ·
Ecole Internationale De Chatel
 ·
F.B.I.
 ·
Flatland Federal Prison
 ·
Frankie's Bar
 ·
Gatlin's
 ·
Gene's Branford Roadhouse
 ·
Geneva WSB Facility
 ·
Green Briar Federal Penitentiary
 ·
The Island
 ·
Ithaca WSB Facility
 ·
Jacksonville Brothel
 ·
Llantano Valley Commercial Properties
 ·
Le Lucien Hotel & Casino
 ·
Malkuth
 ·
Manhattan North Hospital
 ·
Marick Clinic
 ·
Military
 ·
Mountain Landing Longterm Care
 ·
New York Methodist Hospital
 ·
New York Police Department
 ·
Niagara Equities
 ·
Nixon Falls Clinic
 ·
Nixon Falls Firehouse
 ·
Nixon Falls Garage
 ·
Nixon Falls Park
 ·
Oak Hill Convalescent Home
 ·
Panopolis Taverna
 ·
Pautauk Woods
 ·
Pebela Cosmetics
 ·
Pentonville Penitentiary
 ·
Primary Corinthos Safehouse
 ·
Ryan's Bar
 ·
Sawyer High School
 ·
Shadybrook Sanitarium
 ·
Shriners Hospital for Children
 ·
Silver Water Aftercare
 ·
Spring Ridge Prison
 ·
Steinmauer Prison
 ·
S.W.A.T.
 ·
The Tower
 ·
Triple L Diner
 ·
U.S. Consul
 ·
Vanderbilt University
 ·
Vermont Safehouse
 ·
Whispering Pines Spa
 ·
Whitaker Farm
 ·
World Security Bureau
Former Businesses & Locations
The Acorn Motel
 ·
Archer's Pavilion
 ·
Bamboo Bar
 ·
Body Heat
 ·
Bradley Ward House
 ·
Bucket O' Blood
 ·
The Campus Disco
 ·
The Cellar
 ·
Club 101
 ·
The Croydon Hotel
 ·
Deception Health Spa
 ·
Donely Shipping
 ·
Duke's Club
 ·
Emily Bowen-Quartermaine Memorial Clinic
 ·
Equinox Corporation
 ·
The Floating Rib
 ·
Forest Hills Sanitarium
 ·
Gemini Jazz Club
 ·
Green Meadows Spa
 ·
The Invader
 ·
Jason's Bike Shop
 ·
Ko Shing
 ·
L&B Records
 ·
Luke's Blues Club
 ·
Luke's Place
 ·
Luzetta's Bakery
 ·
McCall and Jackal Private Investigations
 ·
Mount Hebron Church
 ·
Nite Lite Motel
 ·
The Oasis
 ·
The Outback
 ·
The Paradise Lounge
 ·
Pawn Shop
 ·
Pine Circle Sanitarium
 ·
Port Charles Hotel
 ·
Port Charles Women's Clinic
 ·
Queen of Angels Church
 ·
Recovery Room
 ·
Rendezvous Motel
 ·
Roselawn Sanitarium
 ·
Sonny's Coffee Shop
 ·
Stay Cool Teen Center
 ·
The Tan-O
 ·
Tea House
 ·
Teen Time Sports Center
 ·
Vaughn's
 ·
Versailles Room
 ·
Waterfront Clinic
 ·
Wyndham's Department Store