Doctor Strange in The Multiverse o Madness - The Loop
Play Sound
Michael Corinthos and Willow Tait are fictional characters, a former married couple and current couple on the ABC soap opera General Hospital.
Casting
Michael has been portrayed by Chad Duell since April 20, 2010. Duell was nominated for three Daytime Emmy's for Outstanding Younger Actor in 2011, 2012, and 2014 and won his first Daytime Emmy for Outstanding Supporting Actor in 2015.
Willow has been portrayed by Katelyn MacMullen since the character's debut on October 18, 2018. MacMullen was nominated for her first Daytime Emmy for Outstanding Younger Performer in 2019.
Background
Michael is the son of the late, A.J. Quartermaine and his ex-wife, Carly Corinthos, and the adoptive son of a mob boss, Sonny Corinthos.
Willow is the daughter of the late Douglas Miller and his ex-wife, Lorraine "Harmony" Miller. She was introduced as Aiden Spencer and Charlotte Cassadine's school teacher and the biological mother of Lucas and Brad's late baby, Wiley Cooper-Jones.
Storylines
Michael and Willow met at a bereavement group. Michael was grieving the presumed stillbirth of his son, Jonah Corinthos and Willow was dealing with the loss of giving up her son, Wiley Cooper-Jones for adoption. Michael and Willow instantly connected as friends. Willow shared few details about her loss and Michael respected her privacy. But the two bonded through their losses and supported one another.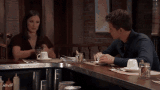 Michael was pleasantly surprised when he attended Career Day at Port Charles Elementary and found out that Willow was a teacher on staff. Michael started to develop feelings for Willow and intended to ask her out on a date. However, Detective Harrison Chase asked Willow out before Michael could do so. Willow and Chase began to date and Michael backed off, but he and Willow remained friends. Eventually, Michael too began a romantic relationship with Sasha Gilmore.
Hank Archer, aka Dawn of Day Cult leader "Shiloh" was revealed to be the father of Willow's child. After finding out about their son, he confronts her at The Nurses' Ball. During the heated encounter, Shiloh assaulted Willow, but Michael saved her. After Shiloh left, Willow confided to Michael that she'd given her son up for adoption to keep him safe from Shiloh.
Michael's younger sister, Kristina Corinthos-Davis gets wrapped up in Dawn of Day. A concerned Michael goes to Willow and asks for her help. An intervention is staged for Kristina and Willow shared her experience in the cult to help get Kristina out from under Shiloh's influence.
Shiloh kidnaps Wiley, but he is rescued by Sam McCall and Dev Cerci. Michael cared a lot for his "godson" Wiley. He and Willow were thrilled when Wiley was returned safely. Their mutual love for Wiley bonded them further. After an encounter with Sam and Jason Morgan, Shiloh was killed.
Willow and Wiley unknowingly ran into Wiley's deranged biological mother,
Nelle Benson
at
General Hospital
. Nelle, who had been in prison was at the hospital after being willingly stabbed by
Ryan Chamberlain
. Willow made polite conversation until Michael came and revealed Nelle's identity warning Nelle to stay away from Willow and Wiley.
On January 2, Michael, Willow, Sam, and Harmony received mysterious invitations to attend Shiloh's memorial. At the memorial, Nelle revealed herself to everyone as Shiloh's wife/widow and told the shocked crowd that she made parole. Nelle planned to collect the ELQ shares that were left to Shiloh by Oscar and reclaim Wiley.


In late February, the truth is revealed that Nelle and Brad Cooper switched Jonah and Wiley. The child they knew as Wiley was actually Michael and Nelle's son, Jonah, and Willow's son Wiley had died the day he was born.


Nelle tried to kidnap Wiley and leave town. Willow was babysitting Wiley when Nelle showed up to take him. Nelle tried to take him and Willow fought her desperately trying to keep her from Wiley. However, the altercation ended when Nelle knocked Willow unconscious after Willow got distracted from Wiley crying. Nelle almost got away with Wiley, but she was apprehended by Chase and Michael, who had just learned the truth about Wiley from Lucas.


After Willow woke up in the hospital, Chase broke the news to her and she was devastated. Chase, Michael, and Sasha all supported her as she grieved the loss of her son. Michael was elated that his son was actually alive, but could also empathize with Willow's pain after thinking he had lost his own son for over a year.


When Michael took Jonah home, he renamed him Wiley Quartermaine-Corinthos. Since Wiley and Willow already had a bond, Michael asked Willow if she would continue to remain in Wiley's life as a mother figure. Willow, still grieving her son, wasn't sure if she could do it. But she later accepted because she had come to love Wiley as her own and was still bonded to him.


Nelle continued her schemes and informed Michael that she would be suing for full custody of Wiley. Michael's lawyer, Diane Miller informed him that he had a strong case for custody, but his case would be even stronger if he could provide a permanent wholesome mother figure for Wiley.


Michael's first instinct was to marry his current girlfriend Sasha, but Diane informed him that marrying Sasha would be counterproductive given her questionable past. Sasha pretended to be Nina Reeves' daughter and later was arrested for fraud, but the charges were dropped. However, this made Sasha a nonviable option. Wanting desperately to help Michael, Sasha proposed that Michael should marry Willow. Initially, everyone thought it was a crazy idea, but eventually Michael came around to the idea of a marriage of convenience.


Willow and Chase were adamantly against the idea. Chase eventually came around to the idea because he knew they needed to do whatever was necessary to protect Wiley from Nelle. Willow was in love with Chase and still wanted to honor her relationship. She maintained that she would serve as a character witness in the trial, but she couldn't marry Michael because she was in love with Chase.


Sasha and Chase came up with a scheme to make Michael and Willow think they had been cheated on. They knew the best chance to protect Wiley was to make sure that Michael and Willow got married. So, they staged a "romantic" scene and had Willow walk in on it. Michael and Willow were both devastated to "discover" that Sasha and Chase had been having an affair and their respective relationships ended. Sasha and Chase were wrecked by what they had done, but knew they had to follow through to protect Wiley.


On May 11, Willow agrees to enter into a marriage of convenience with Michael to help him win custody of Wiley. They affirm that while they still love other people, their marriage will be based on love for each other as friends and their mutual love for Wiley.


On May 12, preparations for Michael and Willow's wedding began. They announced to Sonny and Carly at the Metro Court Hotel that they would be getting married that same night. Carly was excited and Sonny had reservations, but Michael assured him that he was doing what was best for his son.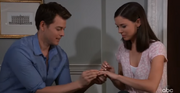 They originally planned to fly to Las Vegas to get married because they didn't have time to get a marriage license before the trial began. However, Sonny changed their plans, insisting that they get married in town, surrounded by family and friends, and told them that he would take care of getting the marriage license.
Family and friends gathered at The Quartermaine Mansion for the wedding. Sonny and Carly, Josslyn, Wiley, Monica, Ned and Brook Lynn were among the attendees. Brook Lynn offered Willow a dress from her closet to wear and Josslyn fashioned a bouquet from flowers found on the grounds.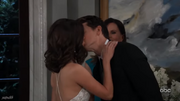 Sonny called Lucy Coe to officiate the wedding, planned for midnight. Nelle overheard Lucy telling Sasha that Michael and Willow were getting married tonight and stormed off angrily. Sasha called Carly and gave her a heads up that Nelle knew about the wedding and may try something. Meanwhile, Michael gave Willow his great-grandmother, Lila Quartermaine's sapphire ring to wear. Michael said Willow was honest, compassionate, and tough just like Lila. She was hesitant at first, but then accepted the ring. Lucy arrived with the marriage license and the wedding went off without interruption. Michael and Willow were married at midnight.
In August, the couple wins full custody of Wiley and Nelle is denied visitation rights. On the night of the 2020 Nurses' Ball, Nelle kidnaps Wiley, but he is later rescued by Michael. The ordeal bonds him and Willow even further, and they share their first real kiss.
The next day, Michael and Willow accompany Wiley and his nanny Melanie, to the Port Charles Park. At the park, Michael asks Willow to adopt Wiley, to establish her legal claim in his life and Wiley's claim on her as a mother. Willow is excited and happy to adopt Wiley as soon as she is legally able too.
Willow was there for Michael when his grandpa was passing and when he passed. The two are starting to get closer. On November 13 while painting Wiley's play-room, Willow and Michael finally admit to their growing feelings for each other and make love. They decide to give a real romantic relationship a try.
As of 2021, their marriage has been annulled, but they remain great friends, with Willow still planning to adopt Michael's son Wiley, and she is moving into the Quartermaine Mansion gatehouse.
On April 12, Michael tells Willow he just broke up with Sasha. She says she changed after what Chase did and grew to love Michael. They make love on the new mattress that was just delivered to the gatehouse. On April 13, Michael and Willow declare their love for each other for the first time and they decide together to live in the gatehouse as a family with Wiley.
On June 7, 2021, Carly confirmed to Jax that Willow had adopted Wiley.
On June 23, Michael and Willow stated that although she and Chase are married they are still committed to each other.
On September 17, Michael and Willow agree to him moving into the Gatehouse with her and Wiley.
See also
References
Photo gallery
Wedding videos
Michael and Willow were married by Lucy Coe on May 12, 2020 at The Quartermaine Mansion. The ceremony was attended by Sonny Corinthos, Carly Corinthos, Josslyn Jacks, Wiley Quartermaine-Corinthos, Monica Quartermaine, Ned Quartermaine and Brook Lynn Quartermaine.