Doctor Strange in The Multiverse o Madness - The Loop
Play Sound
Ned and Olivia Quartermaine are fictional characters and a popular married couple on the soap opera General Hospital.
Casting
The role of Ned was portrayed by actor Kurt McKinney from 1988-91 and by actor Wally Kurth from 1991-2007 and 2012-present.
The role of Olivia was originated by actress Lisa LoCicero on September 19, 2008.
Background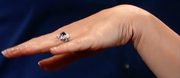 Ned is the son of Lord Larry Ashton and his ex-wife, Tracy Quartermaine. He is also the father of Brook Lynn Quartermaine with his ex-wife, Lois Cerullo.
Olivia is the daughter of Talia Falconeri and the mother of Dante, through a relationship with mob boss, Sonny Corinthos and Leo, through a one night stand with mob boss, Julian Jerome.
Storylines
Photos and videos

Ned proposed to Olivia at the Quartermaine mansion on February 20, 2017, but she turned him down.
Ned: "I was gonna do this at dinner tonight, but why wait? Olivia Falconeri, will you marry me?"
Ned: "Well? Don't leave a guy hanging."
Olivia: "I c-- Ned, I-I can't."
Ned: "Can't? I -- I understand "No." What does "I can't" mean?"
Olivia: I-I'm sorry. I'm sorry. I-I can't."
Ned proposed to Olivia again at the Floating Rib on March 29, but she turns him down again. On March 30, after being held hostage at gunpoint, Olivia proposes to Ned and the two officially become engaged.
Ned: No! No! Tonight... it's about us, about our future. Olivia Falconeri... I want to spend the rest of my life with you. I want to call you my wife. I want us to be a family -- you, me, and little Leo. So will you do me the great honor of marrying me?"
Olivia: ...I'd probably never get out to the movies. [Voice breaking] And my little boy... he wouldn't have the absolute best father figure in the whole wide world. So, you can back off all you want, but you know what? I am coming for you, baby. Edward Lawrence Quartermaine Ashton... ...will you marry me?"Ned: [Laughs] Nothing would make me prouder -- or happier."
Ned and Olivia were married at the Metro Court Hotel on July 7, 2017.
References