Prince Nikolas Cassadine and Brook Lynn Quartermaine are fictional characters and fictional ex-lovers on the ABC daytime soap opera, General Hospital‬.
Storylines
In 2010, Brook Lynn was alone and broke with a damaged reputation when she almost turned to the Quartermaines for help. Nikolas Cassadine provided her with another option. He hired Brook Lynn to be his date for business functions. She moved into Wyndemere and accompanied Nikolas to various events. They also attended Luke and Tracy's wedding together, as well as Brenda and Sonny's wedding. Just as Brook Lynn began to develop romantic feelings for Nikolas, Liz made it clear she was also interested in a relationship with him. Nikolas and Liz had a child together named Aiden, and Liz used their son to get closer to Nikolas. Every time Nikolas and Brook started to get close, Liz interrupted them. When Liz arranged a special dinner for Nikolas, Brook conveniently got a flat tire in front of Liz's house. Nikolas thanked Brook for causing his evening with Liz to end early.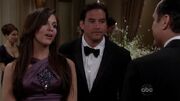 Nikolas and Brook Lynn admitted they had feelings for one another and made love. Liz walked in on an intimate moment between them and decided Aiden could not spend time at Wyndemere if Brook was present. Nikolas stood up for Brook and asked Liz to leave.
When Elizabeth's son Jake was killed after being hit by a car, Nikolas knew he needed to focus on helping Lucky and Liz grieve instead of on his relationship with Brook Lynn. Nikolas encouraged Brook to pursue the offer she had to tour with a Latin band. Nikolas and Brook both wished the timing and circumstances had been different and parted as friends. Brook Lynn moved out of Wyndemere and away from Port Charles to pursue her music career.