Patrick Drake and Sam McCall
Jason Thompson and Kelly Monaco as

Patrick Drake and Sam McCall

General Hospital
Couple nickname
SamTrick
Marriage/relationship dates
Sep 2014 - Dec 2015 (lovers)
Status
Broken engagement
Profile
Age at wedding or meeting
Patrick (29)
Sam (25)
Gender
Male, Female
Couple residence
Berkeley, California (Patrick)
Harborview Towers
122 Harbor View Drive, PH #2
Port Charles, New York (Sam)
Dr. Patrick Drake and Sam McCall are fictional characters and a popular former couple on the ABC daytime soap opera General Hospital.
Casting
The role of Patrick was originated by actor Jason Thompson on December 7, 2005. On October 30, 2015, after many unconfirmed reports, Jason Thompson confirmed on Instagram that after ten years on the show he has decided to leave.[1][2] He made his final appearance on January 7, 2016.
Thompson was nominated for a Daytime Emmy for Outstanding Supporting Actor in 2011 and 2012. Thompson was nominated for a Daytime Emmy for Outstanding Lead Actor in 2013, 2014 and 2015.
Thompson has since moved to The Young and the Restless to play Billy Abbott.
The role of Samantha McCall was originated by former Baywatch star and Playboy's April 1997 Playmate of the Month, actress Kelly Monaco, who debuted on October 1, 2003.
In 2006, Monaco was nominated for a Daytime Emmy in the category of Outstanding Lead Actress in a Drama Series for her role.
Background
Patrick is the son of Dr. Noah Drake and his late wife, Mattie Drake. He is a member of the Drake family.
Sam is the daughter of mob boss/media mogul, Julian Jerome and his ex-wife, headstrong attorney, Alexis Davis via a one night stand from when they were younger.
When they first met in 2005, they really didn't like each other.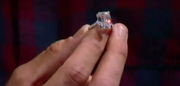 They started a relationship in September 2014 and in October 2015, they became engaged. They made love for the first time on January 19, 2015. On September 18-21, 2015, Patrick proposed to Sam out of the blue but she told him that she wasn't ready but maybe someday. On October 2, Sam accepted Patrick's proposal and he put one of Emma's toy rings on her finger. He gave her a real ring on October 23. Patrick stated that they weren't going to get married until after the holidays and Sam wanted a garden wedding in the winter.
After Jason was revealed to be alive, Sam and Patrick reaffirm their love after she proposes to him on November 24 but soon after that Patrick realized that Sam was not over Jason and after some convincing on Patrick's part, they ended their engagement amicably on December 9-10.
During their time together, they went on two adventures, both linked to Sam's P.I. cases, but Patrick eventually convinced her to settle down with him and their kids.
Patrick and Sam went to the 2015 Nurses' Ball together.
Storylines
Patrick is brought to Port Charles in December 2005 by Dr. Robin Scorpio to save Jason Morgan's life. Having the accurate reputation of a "womanizer," he is very flirtatious when he meets Sam for the first time. He hits on her several times, but she shows no interest and is unimpressed. Sam was only interested in what he could to save Jason, who was her then-boyfriend at the time. Her disdain for his attitude and cockiness led to tension between them and they got into multiple fights. Ultimately, Sam was grateful to Patrick when he performed a life-saving operation on Jason. Through the years, Sam and Patrick interacted the most when either she or Jason, ended up in the hospital with an illness or injury. When Sam was shot in 2006, Patrick was one of the first to tend to her. He later risked his own freedom and performed an illegal, but life-saving operation on her at Jason's urging. Sam and Patrick maintained a cordial and friendly relationship over the following years.
In 2012, Jason needs brain surgery and for Patrick to perform it but his wife had just "died" in an explosion saving Jason's meds so Patrick wasn't too willing to do it but Sam begged and he agreed.
In 2013, when Sam's son Danny was diagnosed with leukemia, Sam wanted him to be treated by a doctor she trusted and immediately took him to Patrick. Throughout the initial diagnosis and treatment process, she leaned on Patrick and he was there to support her as Danny's doctor and a friend. Danny made a full recovery after receiving a bone marrow transplant from his grandfather, Julian Jerome.
In 2014, Sam and Patrick's friendship flourished and they became closer than ever. They often bonded over their relationships and experiences with Jason and Robin, respectively. They began to lean on one another more and more and counsel one another through the situations that arose in their lives. After Patrick loses his newborn son, Gabriel, who was born premature due to a car accident, he hires Sam to investigate who was responsible. Patrick and Sam investigate together and eventually figure out that it was Rafe Kovich, Jr..
When Sam and Dante Falconeri find Rafe, he was trying to leave town because he knew they figured it out. Rafe sped off with Sam's sister, Molly Lansing-Davis in the car, and Sam and Dante chase them. Rafe and Molly crash into a road block and are taken to the hospital. Molly was fine, but Rafe needed brain surgery. Patrick was the only neurosurgeon in the hospital and was forced to operate on Rafe, even though he just found out that Rafe was responsible for the accident. Patrick operates and tries to save Rafe, but he bleeds out and is left brain dead. Silas Clay, Rafe's uncle and Sam's then-boyfriend is furious and believes that Patrick killed Rafe on purpose. Patrick maintains his innocence and Sam believes Patrick and sides with him.
Sam tries to convince Silas of Patrick's innocence, but he doesn't believe her. Sam is angry when something she told Silas about Patrick in confidence, was leaked to the press. This information ended up getting Patrick fired from General Hospital. Silas denies leaking the information, which leads Sam to believe that Nina Clay did it to further drive a wedge between them. Silas defends Nina and doesn't think she'd do such a thing. Eventually, Sam breaks up with Silas because he still has feelings for Nina. Sam wants to know who told the reporters about Patrick's struggle with his conscience, so she began investigating. She discovers that someone was eavesdropping when she told Silas about Patrick's struggle.
She believes that Nina was the person eavesdropping and Patrick agrees to accompany her to the Crichton-Clark Clinic to get more information on Nina. They are successful in infiltrating the clinic, but aren't able to get any information. Sam and Patrick start spending more time together. They confide in one another and talk about their lost loves in Jason and Robin. Patrick asks Sam to investigate who could have put Rafe up to running him and his family off the road and she agrees. Sam works on the case, but hits a roadblock. She and Patrick go to The Floating Rib to unwind and share a friendly game of pool. They make a wager that the winner of the game can make a request of the other. Sam wins the game and teases Patrick about his beard before asking him to cut it as her request.
Sam and Patrick continue to investigate who could have put Rafe up to causing the accident. They share a flirtation and even a kiss as they grow closer. Eventually, they decide to put aside whatever is happening between them personally, so they can focus on the case. They hit a break in the case when Spencer Cassadine tells them that he thinks, Luke Spencer is responsible for causing the accident. Initially skeptical, Sam and Patrick follow up on what Spencer said by talking with Alexis, Anna, Dante, Lulu, and Tracy. Sam gets a lead from Tracy that Luke is in Amsterdam and she and Patrick makes plans to travel there. Sam and Patrick travel to Amsterdam and meet Tracy Quartermaine at a hotel. Due to a mishap with their reservations, Sam and Patrick have to share a room. Sam, Patrick and Tracy go over their plan and are set to meet Luke the next morning. Sam and Patrick plan to observe from afar while Tracy meets with Luke. They set up at a cafe, but when the time comes for Luke to show up, Jerry Jacks arrives instead.
Sam, Patrick and Tracy confront Jerry and he reveals that he wants ELQ stock in exchange for Luke, who he claims to be holding prisoner. Jerry taunts Sam about Jason and his "death." Sam and Patrick warn Tracy not to trust Jerry, but she agrees to give Jerry as much ELQ stock as she can in exchange for Luke's life.When Sam and Patrick arrive back in Port Charles, they fill Alexis in on what happened in Amsterdam and then she spends time with Danny. The night before Halloween, Patrick, Cameron Spencer and Emma Drake visit for Beggar's Night. Sam gives the kids candy and they invite Sam to go out with them. Sam doesn't have a costume, so they dress her as a tree to compliment Patrick who is dressed as a lumberjack. Sam and Patrick take the kids to Wyndemere, where they run into Maxie and Lucas who have Josslyn, and Nikolas, Britt and Spencer.
After Sam got the news that Cesar Faison had been arrested, she and Patrick went to the PCPD to confront Faison for killing Jason and ordering the crash that killed Gabriel. Faison revealed that Victor Cassadine was the one who ordered the crash, thus killing Patrick's son. This led to Faison revealing that Jason did not die the night he was shot on the pier and Patrick knew of it all along. Sam was furious and confronted Patrick, who admitted he knew Jason was alive at Crichton-Clark just months earlier. He then revealed to Sam the true reason that Robin left town -- to save Jason, but she failed and Jason died some months earlier. Sam was hurt by the news and furious that Patrick kept something like this from her. She promptly cut Patrick from her life. Patrick apologizes repeatedly and tries to explain and make it up to Sam. After weeks of discord, Sam forgives him. They spend Christmas together, kiss underneath a mistletoe and start a relationship.
Patrick and Sam first make love on January 19, 2016. As their relationship gets more serious they decide to move in together. They spend all the major holidays together with Emma and Danny and grow closer as a family unit. Patrick shows concern when the various cases Sam is working on begin to get too dangerous. But she reassures him that she would be alright and he comes to accept that it is part of her job and supports her. Patrick first proposes to Sam on September 18, 2016, but as that coincided with her wedding anniversary to Jason Morgan, she wasn't quite ready to accept on that day. Sam reassured Patrick that she loves him but just needs some time. On October 2, Sam accepts his proposal and they officially get engaged.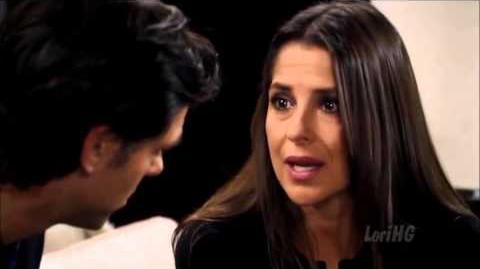 When Jason was revealed to be alive, Patrick and Sam tried to make it work but after finally realizing that Sam was not over Jason, he breaks off their engagement. Sam tries to convince him that she wants to be with him, but eventually realizes that Patrick is right and they part ways amicably and agree to stay friends. When Sam goes to the hospital to give Patrick a gift Danny made for him, she finds out that he is taking some personal time. When Patrick comes back, he brings Robin with him and Sam walks in on them hugging. Robin leaves the two of them to talk. They talk about Robin and Jason and then say their final goodbyes.
Proposal videos
Patrick proposed to Sam out of the blue on September 18-21, 2015, but she told him that she wasn't ready but maybe someday. On October 2, Sam accepted Patrick's proposal and he put one of Emma's toy rings on her finger. He gave her a real ring on October 23.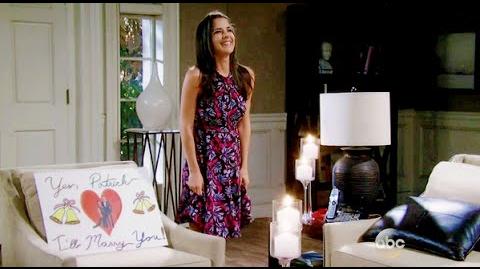 Photo gallery
References
Community content is available under
CC-BY-SA
unless otherwise noted.