Cobra Kai Season 4 - The Loop
Play Sound
The Quartermaine Mansion is the home of the wealthy Quartermaine family. It also features living quarters for several members of the extended family in Port Charles, New York.
History
Amenities
The Quartermaine kitchen is host to their notorious off-screen cook. The original cook Virginia Cook or "Cook" as they called her was first mentioned in the 1990's. Cook hated when anyone else was in her kitchen, and thus people at the house were afraid of her, though on one occasion, Cook did make an exception for a young Emily Quartermaine. During Ned and Alexis's rehearsal dinner, A.J. snuck into the kitchen for a snack before dinner and when Cook discovered him she refused to cook. When Monica tried to reason with cook it only made things worse and the family was forced to order pizza. Cook has resigned on several occasions but always came back. In September 2012, Cook was one of the many who died when the town's water supply was contaminated by Jerry Jacks. Years later "Cook II" was hired as the replacement and appears to have the same temperament as the original. After Olivia Quartermaine bought a pizza oven for the kitchen, "Cook II" quit and Cook Two was hired in May 2018 however she also quit when she received her dream job catering overseas. "Cook III" was hired and is the current cook for the Quartermaines. According to Brook Lynn in 2021, the mansion has 2 housekeepers, a cook, a full-time nanny, and bodyguards.[6]
There is a gatehouse which has been home to a variety of individuals. Ned Quartermaine took primary residence here for years along with his various girlfriends including Jenny Eckert, Lois Cerullo, Chloe Morgan and Alexis Davis, and Nelle Benson after Michael Corinthos moved her onto the property. The most recent resident is Willow Tait. In 2021, Michael moved himself and Wiley into the gatehouse too. The garage features luxury vehicles such as a custom vintage Bentley. A rose garden was present in the courtyard which was tended to by Lila Quartermaine until her death. There is also a boathouse where Emily Quartermaine lost her virginity to Zander Smith, Lulu Spencer lost her virginity to Dillon Quartermaine and where Morgan Corinthos took temporary residence with his girlfriend, Kiki Jerome.
The Quartermaine crypt is located on the property which houses the remains of Lila Quartermaine, Justus Ward, Alan Quartermaine, Emily Quartermaine, Edward Quartermaine and A.J. Quartermaine. In 2014, shortly after A.J. Quartermaine's funeral, Sonny Corinthos and Ava Jerome have sex in the crypt where they're caught by Morgan Corinthos. Ava later ends up pregnant with Avery Corinthos.
Thanksgiving Disasters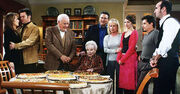 2000, Edward was determined that this would be the first real Thanksgiving the Quartermaines had had in years. He gave Cook the day off and hired the chef from the PC Grill. Alan and Monica were prepared for disaster since Cook never let anyone in her kitchen. Their fears were realized when Cook came home early, kicked the chef out and refused to cook any food. A.J. quickly saved the day when he came over with several pizzas.
2001, Alan hopes for a real Thanksgiving dinner, sends Cook away and hires a chef to make a holiday feast. The Quartermaines almost have a normal Thanksgiving dinner until a food fight occurs between Monica and Skye Chandler-Quartermaine which ruins dinner, (especially when Alan accidentally knocks the turkey onto the mantel). A.J. orders pizza once again.
2002, Courtney Matthews experiences a series of strange dreams, all of which are similar in the sense that she keeps reliving the same day over and over again. In each dream the Quartermaines are attempting to sit down to eat dinner. In the last dream Courtney finally throws the turkey into the fire while Edward leads the Thanksgiving song. As it turns out, all the dreams were actually part of Jason's dream.
2006, a turkey dinner is successfully cooked, however when Emily finds the family sulking and complaining that they have nothing to be thankful for, she instead arranges for their maid Alice Gunderson to serve their dinner to the staff at General Hospital. Dillon Quartermaine orders the pizza.
2007, following the death of Emily, the Quartermaines successfully come together for a traditional Thanksgiving meal while still having pizza on the side.
2009, The Spencer family joins the Quartermaines on Thanksgiving and Monica explains to Emily's twin sister Rebecca Shaw that family squabbles had led to many ruined dinners, so now they go straight for pizza.
2010, The Spencers join the Quartermaines again when Edward explains the Quartermaines long history of bad luck with turkeys, so they started a tradition of giving Cook the day off and then ordering a pizza.
2011, Edward and Monica were delighted that they finally had a real Thanksgiving dinner, so they invited everyone to sing the traditional Thanksgiving song. Moments after the singing began, Jason Morgan shocked everyone when he suddenly upended the table, scattering food everywhere, and then stormed out.
2012, after Edward passed away in his bedroom, the Quartermaines came together to celebrate his life on Thanksgiving. Upon hearing the news, Heather Webber broke out of the asylum and snuck onto the premises to read Edward's will. In an attempt to flee, Heather takes Skye Chandler-Quartermaine hostage but Alice is quickly able to subdue her. When the staff of Ferncliff arrived to take Heather back she promptly destroyed their entire thanksgiving meal. Alice announces that the pizza place has closed for the night just as the doorbell rang and a mysterious stack of pizzas are left at their front porch. The family begins to sing "We Gather Together" as the spirits of Edward and Lila watch on.
2014, Just as friends and family are about to indulge in turkey, Cook II comes down with a sudden and severe case of food poisoning. As the cook was taste testing every dish, the family had no choice but to throw it all out. Alice grabs the pizza.
2015, Paul Hornsby and his son Dillon Quartermaine blow a fuse while trying to deep-fry the turkey. Dillon informed everyone that the fuse box had been zapped and that it would take an electrician a few hours to arrive. Monica was surprised when Drew Cain (believed to be Jason) suggested that they order pizza.
2016, when it appears the Quartermaines are finally about to indulge in a normal Thanksgiving dinner, Ned Quartermaine noticed that the turkey smelled different than he'd expected. Monica became alarmed when Tracy suggested that it might have something to do with the cook's special brine as she had seen a full container labeled "brine" in the refrigerator and an empty container that their house guest Hamilton Finn had labeled "bacteria" on the counter. Dillon and Ned immediately dropped their forks as Monica stood up to fetch the pizza menu.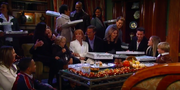 2017, Monica sat alone in the Quartermaine Mansion with a turkey burger, remembering past Thanksgivings. Suddenly Ned and Michael led everyone from their family gatherings in song into the Quartermaine living room, each carrying a pizza.
2018, Monica proudly told her guests that she'd ordered a dozen gourmet pizzas for Thanksgiving, because "why tempt fate?" The family ends up ordering more pizza, after they accidentally donated their gourmet pizzas to the soup kitchen.
2019, The Quartermaines attempt yet another traditional Thanksgiving meal when Monica secretly donates their turkey dinner to Epiphany Johnson and the staff at GH. She later explains to "Drew" the history of the family disasters. Ned orders the pizza.
2020, Lulu Spencer is in a coma at GH after Julian Jerome sets off a bomb at the Haunted Star. Laura Spencer informs Dante Falconeri that Lulu will need to be sent to a long-term care facility. Laura is touched when she sees the Quartermaines arrive to support her. Monica leads a group prayer while Ned and Olivia show up with a dozen boxes of pizza. Tracy Quartermaine also returns to give her support and appears at the elevator announcing "First we sing, then we eat".
Residents
Various family and friends of the Quartermaines have taken residence at the mansion over the years including, Alexandria Quartermaine, Celia Quartermaine, Dawn Winthrop, Larry Ashton, Lucy Coe, Brenda Barrett, Karen Wexler, Justus Ward, Carly Benson, Skye Chandler-Quartermaine, Lila Rae Alcazar, Georgie Jones, Luke Spencer, Lulu Spencer, Brook Lynn Quartermaine, Rebecca Shaw, Ethan Lovett, Maya Ward, Anthony Zacchara, Joe Scully, Jr., Sabrina Santiago, Eduardo Santiago, Avery Jerome-Corinthos, Sasha Gilmore, Nelle Benson, Hayden Barnes, Danny Morgan, Scout Cain, Harrison Chase, Valentin Cassadine, Charlotte Cassadine, Yuri, and Louise Jones.
Gallery
Trivia
The Spencer Mansion is also located on Harbor View Road. Anna Devane now owns a mansion on this street as well.
2019 Renovation: Production designer Jennifer Elliott provided insight on renovating the mansion. "We also had some space issues on our stage, and shooting issues with the last configuration of the mansion, because it had an upstage entry and it was really hard logistically to shoot characters arriving at the door. It's just sort of a design flaw from many, many years ago. So my partner and I went back to the original drawings of the Quartermaine mansion and foyer, which were a million years old, and we lucked upon these old slides that had pictures of what it used to look like. We found the old blueprints and actually found that the original incarnation had a side entrance on one of the walls, which would make it much easier for shooting." Elliott went on describe the iconic staircase as "sort of like another character". [7]

Jennifer Elliott went on to explain the new set was the idea of General Hospital executive producer Frank Valentini when she spoke with Soap Opera Digest. "Valentini also wanted to put some money, time and effort into the family and their home. The original staircase was preserved but simply moved in the new foyer's design. The show was able to locate photos and blueprints of the original set, which they used in the redesign but on a smaller scale in order to maximize stage space for other sets."

The new Quartermaine mansion has a modern look with a focus on white, gold, and green-gray colors. The old wood paneling has been replaced by white walls and marble, though some wood remains. The staircase steps and railing, doors and fireplace mantel are still wood. The staircase now has a cheetah print runner and the front door is to the right, with the entrance to the living room on the left. In the living room, the old couch and table are gone, with a completely new layout of a grey modern sofa and white upholstered chairs. Vases with flowers have also been added as accents and white side tables. New modern sleek bookcases line the walls, along with framed pieces of art. Fans have already noticed that many of the family portraits seem to be missing, especially the ones on the new fireplace mantle. You can view photos of the new mansion set here on Soaps.com. [8]
References
v - e
Locations


Cities, Towns, and Neighborhoods
Asian Quarter Neighborhood
 ·
Beechers Corners, New York
 ·
Bensonhurst Neighborhood
 ·
The Catacombs
 ·
Corinth, Pennsylvania
 ·
Llanview, Pennsylvania
 ·
Nixon Falls, Pennsylvania
 ·
Pautauk, New York
 ·
Pine Barrens Forest
 ·
Pine Valley, Pennsylvania
 ·
Port Charles, New York
 ·
Queens Point Neighborhood
Residences
Ashford Condo
 ·
Baldwin Penthouse
 ·
The Brownstone
 ·
Charlie's Pub Office Apartment
 ·
Collins House
 ·
Davis House
 ·
Devane Manor
 ·
Falconeri House
 ·
Falconeri-Corinthos Safe House
 ·
Finn Apartment
 ·
Greystone Manor
 ·
Harborview Towers
 ·
Jacks Lake House
 ·
Jones Apartment
 ·
The Quartermaine Mansion
 ·
Reeves Penthouse
 ·
Robinson House
 ·
Secondary Corinthos Safehouse
 ·
Spencer Mansion
 ·
Winslow Garden Apartments
 ·
Wyndemere Castle
Medical Facilities
D'Archam Asylum
 ·
Ferncliff Asylum
 ·
Freedman Clinic
 ·
General Hospital
 ·
Mercy Hospital
 ·
Miscavige Institute
 ·
Port Charles County Secure Psychiatric Facility
 ·
Turning Woods Longterm Care
Businesses
Aurora Media
 ·
B/N Department Store
 ·
Black Duck Distillery
 ·
Cassadine Industries
 ·
Corinthos Coffee
 ·
Crimson Magazine
 ·
Deception Cosmetics
 ·
Eckert's Bakery
 ·
ELQ
 ·
The Haunted Star
 ·
Jerome Gallery
 ·
Marta & Chloe
 ·
Metro Court Hotel
 ·
Volonino's Gym
 ·
Xtreme Motors
Restaurants, Bars, and Clubs
Beradino's
 ·
Charlie's Pub
 ·
Haven Bistro
 ·
Kelly's
 ·
Metro Court Restaurant
 ·
Noodle Buddha
 ·
Perks Coffee
 ·
Port Charles Grill
 ·
Pozzulo's
 ·
The Savoy
Education and Organizations
Alliance to Save Exploited Children
 ·
Community Center
 ·
Dawn of Day Cult
 ·
Lila's Kids Summer Camp
 ·
Madison Preparatory School
 ·
Port Charles Academy Preschool
 ·
Port Charles Elementary
 ·
Port Charles High School
 ·
Port Charles University
 ·
Queen of Angels Elementary School
 ·
Sunshine Girls
 ·
True Believers
Other Locations
All Saints Chapel
 ·
Art Studio and Loft
 ·
Baldwin Law Firm
 ·
The Bank of ELQ
 ·
General Hospital Chapel
 ·
Harbor View Inn
 ·
Lookout Point
 ·
Mason, Petrovich, and Miller
 ·
Metro Court Pool and Spa
 ·
Pickle-Lila
 ·
Port Charles Airport
 ·
Port Charles Country Club
 ·
Port Charles Courthouse
 ·
Port Charles Emergency Services
 ·
Port Charles History Museum
 ·
Port Charles Police Department
 ·
The Port Charles Press
 ·
Port Charles Woodlawn Cemetery
 ·
Rice Manor
 ·
Rice Park
 ·
Rice Plaza
 ·
Roger's Reptile Round Up
 ·
St. Timothy's Catholic Church
 ·
Sub-basement Laboratory
 ·
The Waterfront
 ·
Woodbridge Motel
 ·
WLPC
 ·
WXPC
Outside Port Charles
Andy's Roadside Diner
 ·
Art Loft
 ·
The Bar 65
 ·
Beechers Corners Police Department
 ·
Bensonhurst Church
 ·
Blue Cape Police Department
 ·
Boronsky Clinic
 ·
Bridgeport Café
 ·
Brooklyn Union Pub
 ·
Canada Health Care
 ·
Canadian Lighthouse
 ·
Cartullo Couture
 ·
Cassadine Barn
 ·
Cassadine Compound
 ·
Cassadine Island
 ·
Caulfield House
 ·
Celestial Heights Manor
 ·
CoeCoe Cosmetics
 ·
Compound Prison
 ·
Corinth Outlet Mall
 ·
Corinthos Cabin
 ·
Country House
 ·
Crichton-Clark Clinic
 ·
D.E.A.
 ·
Die Klinik den Geist zu Heilen
 ·
DVX
 ·
Ecole Internationale De Chatel
 ·
F.B.I.
 ·
Flatland Federal Prison
 ·
Frankie's Bar
 ·
Gatlin's
 ·
Gene's Branford Roadhouse
 ·
Geneva WSB Facility
 ·
Green Briar Federal Penitentiary
 ·
The Island
 ·
Ithaca WSB Facility
 ·
Jacksonville Brothel
 ·
Llantano County Courthouse
 ·
Llantano Valley Commercial Properties
 ·
Le Lucien Hotel & Casino
 ·
Malkuth
 ·
Manhattan North Hospital
 ·
Marick Clinic
 ·
Military
 ·
Mountain Landing Longterm Care
 ·
New York Methodist Hospital
 ·
New York Police Department
 ·
Niagara Equities
 ·
Nixon Falls Clinic
 ·
Nixon Falls Firehouse
 ·
Nixon Falls Garage
 ·
Nixon Falls Park
 ·
Oak Hill Convalescent Home
 ·
Panopolis Taverna
 ·
Pautauk Woods
 ·
Pebela Cosmetics
 ·
Pentonville Penitentiary
 ·
Primary Corinthos Safehouse
 ·
Ryan's Bar
 ·
Sawyer High School
 ·
Shadybrook Sanitarium
 ·
Shriners Hospital for Children
 ·
Silver Water Aftercare
 ·
Spring Ridge Prison
 ·
Steinmauer Prison
 ·
S.W.A.T.
 ·
The Tower
 ·
Triple L Diner
 ·
Undisclosed Safehouse
 ·
U.S. Consul
 ·
Vanderbilt University
 ·
Vermont Safehouse
 ·
Whispering Pines Spa
 ·
Whitaker Farm
 ·
World Security Bureau
Former Businesses & Locations
The Acorn Motel
 ·
Archer's Pavilion
 ·
Bamboo Bar
 ·
Body Heat
 ·
Bradley Ward House
 ·
Bucket O' Blood
 ·
The Campus Disco
 ·
The Cellar
 ·
Club 101
 ·
The Croydon Hotel
 ·
Deception Health Spa
 ·
Donely Shipping
 ·
Duke's Club
 ·
Emily Bowen-Quartermaine Memorial Clinic
 ·
Equinox Corporation
 ·
The Floating Rib
 ·
Forest Hills Sanitarium
 ·
Gemini Jazz Club
 ·
Green Meadows Spa
 ·
The Invader
 ·
Jason's Bike Shop
 ·
Ko Shing
 ·
L&B Records
 ·
Luke's Blues Club
 ·
Luke's Place
 ·
Luzetta's Bakery
 ·
McCall and Jackal Private Investigations
 ·
Mount Hebron Church
 ·
Nite Lite Motel
 ·
The Oasis
 ·
The Outback
 ·
The Paradise Lounge
 ·
Pawn Shop
 ·
Pine Circle Sanitarium
 ·
Port Charles Hotel
 ·
Port Charles Women's Clinic
 ·
Queen of Angels Church
 ·
Recovery Room
 ·
Rendezvous Motel
 ·
Roselawn Sanitarium
 ·
Sonny's Coffee Shop
 ·
Stay Cool Teen Center
 ·
The Tan-O
 ·
Tea House
 ·
Teen Time Sports Center
 ·
Vaughn's
 ·
Versailles Room
 ·
Waterfront Clinic
 ·
Wyndham's Department Store