Sonny Corinthos and Connie Falconeri are fictional characters and a former couple on the soap opera General Hospital.
Casting & Background
The role of Sonny was originated by actor Maurice Benard in 1993.
The character of Connie
(also known as Kate)
was portrayed by actress
Megan Ward
from 2007-10 and subsequently by actress
Kelly Sullivan
from 2011-13.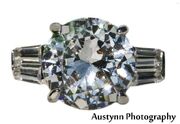 Sonny and Connie Falconeri, who later changed her named to Kate Howard, were high school sweethearts who both grew up in the blue collar district of Bensonhurst, New York. They dated back in the 1980s and made plans to run away together until Kate left Sonny standing on a street corner and took a different direction in life.
They did not see each other again until 2007 when Kate ended up in Sonny's coffee shop and their relationship started again from there. They dated again from 2008-09. On Kate and Sonny's wedding day, Kate was shot, which resulted in the end of their relationship. In 2011, they started to reconnect.
Kate changed her name back to Constanza Louise "Connie" Falconeri, which was formerly Katherine Hardwicke "Kate" Howard.
Storyline
In early 2012 when Kate Howard was diagnosed with DID she remembered things that she hasn't remembered in years. Connie became pregnant as a result of being raped by Joe Scully, Jr., which also caused her to develop Dissociative Identity Disorder, splitting her into Connie Falconeri, and Kate Howard.
Connie is usually considered to be the "alternate personality", although evidence from things said by Sonny and Joe suggest she became "Kate" after the rape, as both men refer to her as Connie when talking about the past.
On August 10, 2012, Sonny showed his daughter Kristina Corinthos-Davis a ring, telling her that he intended to ask Kate to marry him. In early 2013, Connie agrees to go to therapy and get integrated so this way whoever the main alter can be at peace. Over the summer Connie and Kate become fully integrated.
At first Connie believes she must stay away from Sonny in order to stay fully integrated. Sonny tries to convince her otherwise, but eventually begins to move on with Connie's cousin, Olivia Falconeri. Connie realizes she wants Sonny back and they get back together. In August 2013, Connie dies after being shot in the chest and Sonny mourns her loss.
Sonny: "Wait, wait. You're not -- you're crazy. I'm crazy. That's why we fit. I will never leave you. And I promise you, if you let me, I will spend the rest of my life making you happy. Will you marry me?"
Kate: [Laughs]
Sonny: "Is that a yes?"
Kate: "Yes, I will."
[Both laugh]
Kate: "Yes."
Videos & Gallery
Sonny and Kate/Connie almost got married twice: the first time was on September 29, 2008 and the second time was on October 2, 2012. Kate was shot during the first wedding and during the second wedding, Kate ends up being Connie and is already married to Johnny Zacchara.
References