Sonny and Brenda Corinthos
Maurice Benard and Vanessa Marcil as

Sonny and Brenda Corinthos

General Hospital
Couple nickname
S&B
Marriage/relationship dates
1993 - 95 (lovers)
1997 (lovers)
(broken engagment)
2010 - 11 (lovers)
Feb 18 - Nov 21, 2011
Status
Divorced
Profile
Age at wedding or meeting
Sonny (41)
Brenda (35)
Gender
Male, Female
Couple residence
Greystone Manor
120 Shoreline Road
Port Charles, New York
(Sonny)
Rome, Italy (Brenda)
Sonny Corinthos and Brenda Barrett Corinthos are fictional characters and a popular former supercouple on the ABC daytime soap opera General Hospital.
The couple was popular in the 1990's and for a short stint from 2002-03. They reunited when Brenda returned to the series in 2010 and 2013.
The couple has had many stand in their way, but mostly Brenda's ex-fiance Jasper Jacks and Sonny's now wife, Carly Corinthos.
Casting and music
The character of ruthless mob boss Sonny Corinthos was orginated by Daytime Emmy Award winning actor Maurice Benard on August 13, 1993. After four years with the show, Benard left on September 24, 1997, and after a brief return in the spring of 1998, has continued to portray Sonny since December 18, 1998.
In 2003, Benard won the Daytime Emmy Award for Outstanding Lead Actor for the role of Sonny Corinthos. Since 1998, Benard has been with General Hospital for 13 years and including his first run on the show, he has been playing Sonny Corinthos for a total of 17 years.
The role of the beautiful and tenacious Brenda Barrett was originated by Daytime Emmy Award winning actress Vanessa Marcil on September 18, 1992. After a six-year run with the show, the character of Brenda was believed to have died after her mentally ill mother drove their car off a cliff. After a four year absence, Marcil reprised her role for a few short months in 2002 to 2003. In 2010, after a seven year absence from General Hospital, Marcil once again returned to the show as Brenda and left in 2011. She then made a brief return in 2013.
Marcil was nominated for a Daytime Emmy Award in the category of Outstanding Supporting Actress in 1997 and 1998 for her role as Brenda. In 2003, she won a Daytime Emmy Award in the category of Outstanding Supporting Actress for her role as Brenda.
The couple's official song is "Home Again," written and performed by Daena Jay. The song was given to the couple in 2010, and used for the very first time when Sonny and Brenda came face to face for the first time in seven years on September 7, 2010. The song was used for the duration of Sonny and Brenda's time together and featured heavily during their February 2011 wedding. Sonny and Brenda shared their first dance as husband and wife to "Home Again" during their wedding. The song "The Nearness Of You" by Sheena Easton was played the first time the couple made love. "Crazy Love" by Cassandra Wilson is another S&B song.
Background
Sonny and Brenda were engaged and set to get married in 1997 but Sonny left her at the alter. Sonny proposed to Brenda years later at Luke and Tracy's wedding and they married on February 18, 2011 and had traditional vows. Sadly, they divorced later that year.
Storylines
Classic quotes
Sonny (to Brenda): "We don't have a choice, like moths to a flame."

Sonny (to Brenda): "Is it enough to say that you make the blood in my veins so hot that I can barely touch my own skin? I have never wanted another woman as much as I want you. Is it enough to say that I… that I think about your face, your mouth and when I do, I want to stop whatever I'm doing and make love to you?"

Sonny: "I have always loved you, and I will always love you. No matter what happens, you have to know that."
Brenda: "Do you know in my heart I never really left you?"

Sonny: "Brenda saved my life. And she's been going on saving it ever since. All the good things in my life I owe to her, one way or another."

Brenda (to Sonny): "Sonny, don't you know that I would rather stay here and die than be without you for another day."

Brenda (to Sonny): "This irresistible force just keeps drawing me to you."

Sonny (to Brenda): "You're a part of me Brenda, and I love you."

Brenda (to Sonny): "I need you, I can't sleep. Every time I close my eyes, I see your face, I hear your voice, I feel your mouth."

Brenda: "I'm scared."
Sonny: "Then walk away."
Brenda: "That scare me even more."

Brenda (to Sonny): "We were something else together you know, we were like a force of nature."

Sonny (to Brenda): "You're the best thing that has ever happened in my life. I need you in my life. I'm going to take care of you and protect you always."

Sonny (to Brenda): "You're my drug Brenda."

Sonny (to Brenda): "We're real, this is real. It might be messy, it might be inconvenient, but it's the strongest thing you'll ever know."

Sonny (to Brenda): "You're a part of me Brenda, and I love you."

Brenda (to Sonny): "I want to make sure that you're happy because I – I wanted you to know… that I am. And it's because of you."

Sonny (to Brenda): "I know my limitations and you're not one of them."

Brenda: "I wish I could make you feel the way you make me feel."
Sonny: "You know I love you."
Brenda: "No, I mean what your mother wanted for you. To be safe. You're so strong Sonny and I know that you are never going to let anything bad happen to me. That's how I want you to feel. I want you to feel safe. And I can't change all the bad things that people did to you in your life, but I want you to know that your heart is safe with me."

Brenda (to Sonny): "Remember....you remember, don't forget.....diamonds at the start, diamonds at the end."

Sonny (to Brenda): "No matter where you are, I will always love you."
Proposal videos
Videos
Sonny gives Brenda two rings on January 11, 2011 (a ring representing their past and their present). Sonny and Brenda finally got married at the Archer's Pavilion on February 22, 2011. The couple honeymooned in Positano, Italy on March 23, 2011.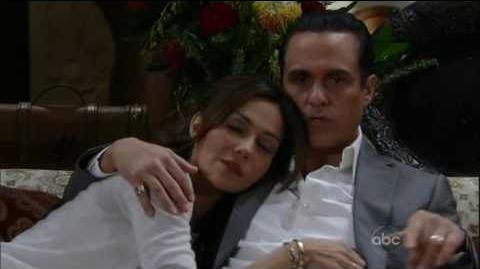 Photo gallery
Community content is available under
CC-BY-SA
unless otherwise noted.