Spencer Cassadine and Josslyn Jacks are fictional characters and a pretend couple who are currently friends on the ABC daytime soap opera General Hospital.
Storylines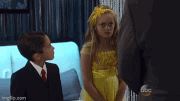 On June 26, 2014 at Camp Lila, Carly introduces Josslyn to Spencer who is with Sonny. Spencer says they have met and Josslyn adds that she beat Spencer in sudden death overtime in a spelling bee last December.
Camp counselor Alice comes by and asks who wants popsicles. Josslyn leaves with her and offers for Spencer to go with her. Sonny encourages him but Spencer says Josslyn is no Emma, his crush. Sonny says that Josslyn is her own person and Josslyn comes back and asks if Spencer is coming. He shrugs and goes with her.
Later, Spencer pretended to date Josslyn to make Cameron jealous. Cameron was "dating" Emma at the time who Spencer was in love with and Josslyn had a crush on Cameron.
Emma tells Spencer that she knows Josslyn isn't really his girlfriend. Cameron thought she was but Emma says that Josslyn told her it was an act to make her jealous. Cameron wonders why Josslyn would do this. Spencer admits there was something in it for Josslyn too.
Cameron thinks Josslyn was also bribed but she says she wasn't. Spencer says Josslyn wanted to make Cameron jealous too. Cameron asks why and Josslyn says that she is in love with Cameron.
In July, Spencer ran away from home to push Nikolas and Britt back together. Josslyn hides Spencer at her place. Liz finds Spencer hiding and brings him back home in August.
In November, Spencer and Josslyn talk at Franco and Carly's wedding. They are sent away when the wedding is called off.
By 2015, Cameron is with Josslyn and Spencer is with Emma.
In July 2021, Spencer comes back from boarding school in Paris.
In December, Spencer tells Josslyn about his girlfriend Esme's history and they fight about her. Spencer convinces Josslyn to give Esme a chance since they have been friends forever.