Doctor Strange in The Multiverse o Madness - The Loop
Play Sound
The Jason Morgan Conspiracy is a conspiracy that involves two men who think they are Jason Morgan.
Backstory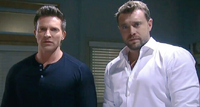 One (Steve Burton's Jason) was locked in the Boronsky Clinic in Russia, where he is known as Patient 6. The other one (Billy Miller's Jason) was kept in cryogenic suspension in the Crichton-Clark Clinic by Victor Cassadine, and was revived by Robin Scorpio-Drake. He was hit by a car driven by Ava Jerome, soon after waking up, he escaped the clinic and required multiple extensive surgeries, getting a new face in the process. He suffered from amnesia and believed himself to be Jake Doe for over a year until a DNA test proved that he was Jason Morgan and he regained his supposed memories soon after.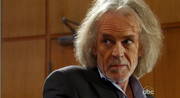 The masterminds behind the conspiracy were Helena Cassadine and Cesar Faison, along with his son Henrik. In October 2017, Dr. Andre Maddox, a psychiatrist residing in Port Charles since 2015, is revealed to also be involved as he was the one who had conditioned Andrew Cain to believe he was his twin brother Jason Morgan as well as give him all of his memories. In 2018, it's revealed that Faison had Jason switched with his brother Drew because he had brain damage and could not be brainwashed.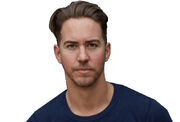 After the conditioning of Drew, he ordered Henrik to eliminate Jason. But Henrik had other plans and betrayed his father by having Jason secretly kept alive at the clinic under the supervision of Dr. Richard Klein until it was time for him to eliminate his father, which he did after 5 years. Henrik has some sort of connection to Valentin Cassadine as they both worked together in plotting the final death of his father. After months of being hunted down, on May 22, Henrik was captured and taken into custody by the PCPD and the WSB. However, in early August, he was released though he is under watch by the WSB.


Patients of Memory Transference:
In 2019, it's revealed that there are other patients who suffered from the same process. The names of the patients are listed below.