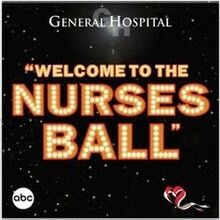 The Nurses' Ball is founded in 1994 by Lucy Coe as a fundraiser for HIV and AIDS awareness and research. It is held at the Port Charles Hotel (where the Metro Court Hotel stands today), and attended by most everyone in Port Charles.
The event includes acts by various citizens, including singing, acting and dancing. Lucy emcees the event, often with Katherine Bell, and has become notorious for usually ending up in her underwear somehow during the show.
The Nurses' Ball becomes more personal for many in 1996 when local teenager Robin Scorpio is diagnosed with HIV. After eight consecutive Nurses' Ball, the 2001 one is the last one for awhile due to lack of funding.
It was brought back in 2013 along with a new Red Carpet arrivals segment that was hosted for four years by Donny Sheldon. Since 2014, Nina Reeves, as the editor of Crimson, has interviewed the Red Carpet arrivals.
In 2020, the Ball is held as a telethon to support front-line workers, with Robin Scorpio-Drake (who is also a doctor) gives it her blessing.
Original Nurses' Balls
Nurses' Ball Returns