Jurassic World: Dominion Dominates Fandom Wikis - The Loop
Play Sound
The Waterfront is a section of Port Charles.
History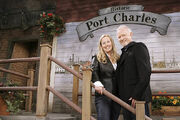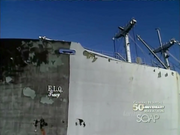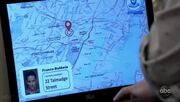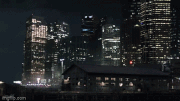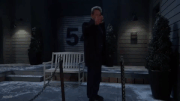 As its name suggests, Port Charles is a major port. The Waterfront district has been under the control of Sonny Corinthos for over a decade, though rival gangs have tried to move in on his territory, such as Lorenzo Alcazar, the Ruiz brothers, and others. Kelly's, a local eatery, is located in this area and the Elm Street Pier is also located here. Rick Webber and Monica Quartermaine had a "love shack" they would often meet in near this area. Majority of the Port Charles waterfront is owned by the Pride-Philips Company, which was given to Courtney Matthews as a thank you from a woman whose life she saved. Courtney later sold Pride-Philips to Lorenzo Alcazar.
Elm Street is a poorer district within the city and is located near The Waterfront. It is notable for being the place where one of the city's most famous and flamboyant residents, Luke Spencer, grew up. Luke's sister, Bobbie Spencer, owns a restored brownstone here, which became the residence of several Port Charles citizens. Alan Quartermaine and Mike Corbin used this district of Port Charles to meet up with prostitutes while fighting addictions. Maxie Jones was almost raped here after buying hydrocodone for Lucky Spencer. Robert Scorpio was beaten up by Lorenzo Alcazar's enforcers for not revealing the location of Skye Quartermaine, who was pregnant with his child at the time.
Fisherman Village is The Waterfront development constructed by mobsters in the "Tumble Dry" money laundering scam. Dan Rooney, Commissioner of Waterfront Development, tried to oppose the construction due to the shoddy construction plans, but was silenced in an "accident" arranged by Mr. Big (Co-Police Chief Burt Ramsey).
The Waterfront Promenade houses the popular coffee shop Perks, which serves Corinthos Coffee.
The B/N Department Store is located somewhere in this area. Pier 55 is where the launch for Spoon Island is located. Many high level Port Charles citizens meet on the Elm St. Pier daily.
The Waterfront is also a popular place for jogging - with the Bellweather Steps providing a spectacular view of the harbor. It's also the location of the Polar Bear Plunge charity event.
There are 57 piers on The Waterfront where many events happen including disaster and crime:
In February 1991, many Port Charles citizens protested the arrival of the freighter S.S. Tracy owned by the Quartermaine family. The boat sank on arrival in the middle of Port Charles Harbor, unleashing toxic chemicals and causing an environmental disaster.
In 2008, Alexis Davis and Sam McCall are attacked here by the Text Message Killer.
On March 17, 2008, one of the warehouses on the docks, an abandoned cannery, exploded. Sonny met with Claudia Zacchara to return Johnny to her. She arrived, and got on the phone with an ally to try and peace with them and Sonny. Meanwhile, Trevor Lansing and sniper stood on a loft in the warehouse, poised to shoot Claudia. Ric Lansing and Marianna Erosa were in another part of it, trying to cover the dead body of Randy. Carly finally finds Michael, where he confesses to shooting Kate Howard. They began to leave and go home. Meanwhile, a bomb is slowly ticking away. Right as the sniper pulls his trigger, the bomb goes of, and an explosion rips through the building. Everyone survives the event, but Carly miscarries her baby. Soon after the Docks became the site of a fake prescription drug ring headed up by Jerry Jacks. The ring produced placebos that claimed at least one life; a female heart patient. Matt Hunter was the prime suspect, but the extent of his involvement cleared. Andrei Karpov had a cargo ship, Odyssey, docked in the harbor.
When the Russian mob invaded PC in 2008 various events occured here including: Andrei Karpov stabbing Sonny and throwing him into the harbor with weights tied to his ankles. Carly jumped in and saved him just in time. Weeks later, Sonny killed Karpov here. In late December, Sasha Donev was shot and killed by a sniper here. In early January 2009, a brainwwashed Drew Cain blew up Sonny's latest cargo shipment. In 2011, Shawn Butler stops a bomb from going off at the Waterfront later Dante Falconeri is shot here. In 2012, Jerry Jacks's boat explodes following the leakage of gas from a shootout on the docks involving, Sonny, Sean, John McBain, and Dante. Sonny and Jasper Jacks were onboard but both managed to swim to shore.
Pier 14:
In September 2011, J.T. tells Johnny Zacchara that cut drugs are being stored at the old packaging house on the pier. Johnny has J.T. call his contact, Rudy Trujillo, to arrange a meeting. Before Rudy arrives, Johnny gives J.T. a gun for protection. Johnny calls Rudy's name and forces J.T. to shoot Rudy. Rudy shoots back and hits J.T. in the abdomen. Both men are killed.
Pier 17:
Nikolas pays a man to attack Hayden here. He "rescues" Hayden from the attacker and convinces her that Valentin wants her dead and she should leave town which she reluctantly does. [Nov 26-27, 2019]
After her brother Rocco Falconeri wouldn't believe that Charlotte had a secret bodyguard (her thought-dead uncle Nikolas), she jumped into the freezing harbor to prove him wrong. [Dec 17, 2019]
Pier 47:
The group boards Matt Hunter's charter boat for his party here. [Oct 2011]
Pier 52:
A boat explodes as it is pulling into the harbor [Sep 2003]
Pier 52 shootout happened: Jason was shot by Cesar Faison disguised as Duke Lavery and Bernie Abrahms is killed. Jason is thought to be dead for five years [Oct 2012]
Caleb Morley murders Alison Barrington. Caleb returns to the Pier along with Rafe Kovich, Jr. and Officer Bud Carlson. Caleb stabs Officer Carlson to death and tries to kidnap Rafe but fails. [Jan 2013]
Todd Manning and Heather Webber hide out at here while waiting for a boat in order to leave Port Charles but before they can, Caleb arrives and stops Heather from leaving with Danny Morgan by choking her neck and throwing her into the harbor, Caleb tries to kidnap Danny but Todd stops Caleb and both Todd and Caleb struggle over the stroller. Caleb threatens Todd to leave but Todd refuses and before Caleb can do anything he hears the police sirens and runs off. After Todd is arrested, Caleb goes back to the Pier where he kidnaps both Sam McCall and Danny. [Feb 2013]
Michael Corinthos and Morgan Corinthos had a fight here and Michael fell in the water. Morgan left him to drown and Michael almost did until Franco saved him. [Nov 2013]
Cassandra Pierce's boat explodes as it pulls away from the pier. Valentin Cassadine arranged for the explosion. [Nov 2019]
Pier 54:
Kiki Jerome is shot in the abdomen by Landon Dixon who is in the middle of a gun deal on the pier. [Feb 2016]
Anna Devane is attacked, knocked out, and locked in a meat locker by Carlos Rivera. Carlos is later stabbed three times with a dagger by Julian Jerome and kicked into the water. [May 2016]
Julian Jerome held a dagger to Alexis Davis' throat. [Jul 2016]
Alexis Davis finds Brendon Byrne's body floating in the water. [Apr 18, 2022]
Pier 55:
Patient 6 shot Klein's henchman Delvin here. Then Dr. Klein pushed Sam McCall in the harbor and Patient 6 rescued her. Later Valentin Cassadine finds an injured Delvin here. [Oct 2017]
Jason Morgan and Drew Cain get into a physical altercation over Sam leading both men to be arrested. [March 2018]
Peter August almost shot Anna Devane here before Jason showed up. [May 2018]
Sam rescued Jason, pulling him as he was barely conscious from the cold water after he fell into the catacombs and had to swim to safety [Jan 2019]
Laura Collins and her assistant Maureen find Ava Cassadine drunk here. [Mar 21, 2019]
Cassandra Pierce took young Charlotte Cassadine hostage here, which led to Cassandra's presumed death at the hands of Charlotte's father, Valentin Cassadine. [Nov 12, 2019]
Cyrus Renault arranged an ambush here where Laura was shot. [Jan 2020]
Jordan Ashford finds fellow DEA agent Mark Simon dead here. [Feb 2020]
Sonny and Jason meet Cyrus and Walker here for a mob meeting. [Apr 2020]
Harrison Chase and Sasha Gilmore get drunk together here. [May 2020]
Jordan meets here with Marcus Taggert who was thought to be dead. [Aug 18, 2020]
Julian Jerome holds his "wife" Nelle Benson-Jerome at gunpoint, after she blackmailed him into kidnapping her son. He is attacked by Marcus Taggert, whom he shoots, Nelle gets away, and Julian throws the gun in the harbor before he leaves. Jason Morgan is surprised to find Marcus while following a lead on the kidnapping. [Aug 24, 2020]
Peter August kidnapped his daughter, and held Maxie Jones hostage. [Feb 4, 2022]
Gallery
v - e
Locations

Cities, Towns, and Neighborhoods
Asian Quarter Neighborhood
 ·
Beechers Corners, New York
 ·
Bensonhurst Neighborhood
 ·
The Catacombs
 ·
Corinth, Pennsylvania
 ·
Llanview, Pennsylvania
 ·
Niagara Falls, New York
 ·
Nixon Falls, Pennsylvania
 ·
Pautauk, New York
 ·
Pine Barrens Forest
 ·
Pine Valley, Pennsylvania
 ·
Port Charles, New York
 ·
Queens Point Neighborhood
Residences
Ashford Condo
 ·
Ashford-Lansing-Davis Apartment
 ·
Baldwin Penthouse
 ·
The Brownstone
 ·
Charlie's Pub Office Apartment
 ·
Chase Apartment
 ·
Collins Penthouse
 ·
Corbin Apartment
 ·
Davis House
 ·
Devane Manor
 ·
Falconeri House
 ·
Falconeri-Corinthos Safe House
 ·
Finn Apartment
 ·
Greystone Manor
 ·
Harborview Towers
 ·
Jones Apartment
 ·
Quartermaine Gatehouse
 ·
The Quartermaine Mansion
 ·
Reeves Penthouse
 ·
Robinson-Ashford Beach House
 ·
Secondary Corinthos Safehouse
 ·
Spencer Mansion
 ·
Winslow Garden Apartments
 ·
Wyndemere Castle
Medical Facilities
D'Archam Asylum
 ·
Ferncliff Asylum
 ·
Freedman Clinic
 ·
General Hospital
 ·
Mercy Hospital
 ·
Miscavige Institute
 ·
Port Charles County Secure Psychiatric Facility
 ·
Turning Woods Longterm Care
Businesses
Aurora Media
 ·
B/N Department Store
 ·
Black Duck Distillery
 ·
Cassadine Industries
 ·
Corinthos Coffee
 ·
Crimson Magazine
 ·
Deception Cosmetics
 ·
Eckert's Bakery
 ·
ELQ
 ·
The Haunted Star
 ·
Jerome Gallery
 ·
Marta & Chloe
 ·
Metro Court Hotel
 ·
Volonino's Gym
 ·
Xtreme Motors
 ·
Yoga Studio
Restaurants, Bars, and Clubs
Beradino's
 ·
Charlie's Pub
 ·
Haven Bistro
 ·
The Highsider
 ·
Kelly's
 ·
Metro Court Restaurant
 ·
Noodle Buddha
 ·
Outdoor Cafeteria
 ·
Perks Coffee
 ·
Port Charles Grill
 ·
Pozzulo's
 ·
The Savoy
Education and Organizations
Alliance to Save Exploited Children
 ·
Community Center
 ·
Dawn of Day Cult
 ·
Lila's Kids Summer Camp
 ·
Madison Preparatory School
 ·
The Mooney/Kenny Shooting Range
 ·
Port Charles Academy Preschool
 ·
Port Charles Elementary
 ·
Port Charles High School
 ·
Port Charles University
 ·
Queen of Angels Elementary School
 ·
Scouts of Port Charles
 ·
Throwing Club
 ·
True Believers
Other Locations
All Saints Chapel
 ·
Angel's Bluff
 ·
The Bank of ELQ
 ·
General Hospital Chapel
 ·
Harbor View Inn
 ·
Home & Heart
 ·
Hospital Rooftop
 ·
Lookout Point
 ·
Mason, Petrovich, and Miller
 ·
Metro Court Gardens
 ·
Metro Court Pool and Spa
 ·
Midwood Motor Lodge
 ·
Museum of Mayhem
 ·
Pickle-Lila
 ·
Port Charles Airport
 ·
Port Charles Country Club
 ·
Port Charles Courthouse
 ·
Port Charles Emergency Services
 ·
Port Charles Funeral Home
 ·
Port Charles History Museum
 ·
Port Charles Police Department
 ·
The Port Charles Press
 ·
Port Charles Woodlawn Cemetery
 ·
Public Spaces
 ·
Quartermaine Boathouse
 ·
Quartermaine Stables
 ·
Rage Room
 ·
Rana Point
 ·
Rice Manor
 ·
Rice Park
 ·
Rice Plaza
 ·
Roger's Reptile Round Up
 ·
Steam Room
 ·
St. Timothy's Catholic Church
 ·
Sub-basement Laboratory
 ·
The Waterfront
 ·
Waterfront Promenade
 ·
Woodbridge Motel
 ·
WLPC
 ·
WXPC
 ·
Wyndemere Stables
Outside Port Charles
Afghanistan
 ·
Andy's Roadside Diner
 ·
Art Loft
 ·
The Bar 65
 ·
Beechers Corners Police Department
 ·
Bensonhurst Church
 ·
Bliss Street Auto Repair Mechanics
 ·
Blue Cape Police Department
 ·
Boronsky Clinic
 ·
Bridgeport Café
 ·
Brooklyn Union Pub
 ·
Canada Health Care
 ·
Canadian Lighthouse
 ·
Cartullo Couture
 ·
Cassadine Barn
 ·
Cassadine Compound
 ·
Cassadine Island
 ·
Caulfield House
 ·
Celestial Heights Manor
 ·
CoeCoe Cosmetics
 ·
Compound Prison
 ·
Corinth Outlet Mall
 ·
Corinthos Cabin
 ·
Country House
 ·
Crichton-Clark Clinic
 ·
D.E.A.
 ·
Die Klinik den Geist zu Heilen
 ·
DVX
 ·
Ecole Internationale De Chatel
 ·
EuroTech
 ·
F.B.I.
 ·
Flatland Federal Prison
 ·
Frankie's Bar
 ·
Friends of Peace and Love
 ·
Gatlin's
 ·
Gene's Branford Roadhouse
 ·
Geneva W.S.B. Facility
 ·
Green Briar Federal Penitentiary
 ·
I.C.E.
 ·
Interpol
 ·
The Island
 ·
Ithaca W.S.B. Facility
 ·
Jacksonville Brothel
 ·
Le Lucien Hotel & Casino
 ·
Lethe Unlimited
 ·
Llantano County Courthouse
 ·
Llantano Valley Commercial Properties
 ·
Malkuth
 ·
Manhattan North Hospital
 ·
Marick Clinic
 ·
Military
 ·
Mountain Landing Long-term Care
 ·
New York Methodist Hospital
 ·
New York Police Department
 ·
Niagara Equities
 ·
Nixon Falls Clinic
 ·
Nixon Falls Firehouse
 ·
Nixon Falls Garage
 ·
Nixon Falls Park
 ·
Oak Hill Convalescent Home
 ·
Panopolis Taverna
 ·
Pautauk State Park
 ·
Pebela Cosmetics
 ·
Pentonville Penitentiary
 ·
Primary Corinthos Safehouse
 ·
Ryan's Bar
 ·
Sawyer High School
 ·
Shadybrook Sanitarium
 ·
Shriners Hospital for Children
 ·
Silver Water Aftercare
 ·
Spring Ridge Prison
 ·
Steinmauer Prison
 ·
S.W.A.T.
 ·
Swiss-Austrian W.S.B. Field Office
 ·
Swiss Farmhouse
 ·
The Tower
 ·
Triple L Diner
 ·
Turkish Prison
 ·
Undisclosed Safehouse
 ·
U.S. Consul
 ·
Vanderbilt University
 ·
Vermont Safehouse
 ·
Whispering Pines Spa
 ·
Whitaker Farm
 ·
W.S.B.
Former Businesses & Locations
The Acorn Motel
 ·
Archer's Pavilion
 ·
Art Studio and Loft
 ·
Baldwin Law Firm
 ·
Bamboo Bar
 ·
Body Heat
 ·
Bradley Ward House
 ·
Bucket O' Blood
 ·
The Campus Disco
 ·
Canadian Hideout
 ·
The Cellar
 ·
Club 101
 ·
The Croydon Hotel
 ·
Deception Health Spa
 ·
Donely Shipping
 ·
Duke's Club
 ·
Emily Bowen-Quartermaine Memorial Clinic
 ·
Equinox Corporation
 ·
The Floating Rib
 ·
Forest Hills Sanitarium
 ·
Gemini Jazz Club
 ·
Green Meadows Spa
 ·
The Invader
 ·
Jason's Bike Shop
 ·
Ko Shing
 ·
L&B Records
 ·
Laundromat
 ·
Luke's Blues Club
 ·
Luke's Place
 ·
Luzetta's Bakery
 ·
McCall and Jackal Private Investigations
 ·
Mount Hebron Church
 ·
Nite Lite Motel
 ·
The Oasis
 ·
The Outback
 ·
The Paradise Lounge
 ·
Pawn Shop
 ·
Pine Circle Sanitarium
 ·
Pizza Shack
 ·
Port Charles Hotel
 ·
Port Charles Women's Clinic
 ·
Queen of Angels Church
 ·
Recovery Room
 ·
Rendezvous Motel
 ·
Roselawn Sanitarium
 ·
Sonny's Coffee Shop
 ·
Stay Cool Teen Center
 ·
The Tan-O
 ·
Tea House
 ·
Teen Time Sports Center
 ·
Underground Bunker
 ·
Vaughn's
 ·
Versailles Room
 ·
Waterfront Clinic
 ·
W.S.B. Training Academy
 ·
Wyndham's Department Store