m

Line 14:
Line 14:
 

| parents = [[Mikkos Cassadine]]<br><small>(Valentin's father; deceased)</small><br>[[Helena Cassadine]]<br><small>(Valentin's stepmother; deceased)</small><br>Mr. Reeves<ref>Madeline put Nina in a coma because her husband left all of the money in his will to Nina. Which would mean he's dead as Nina inherited the money.</ref><br>[[Madeline Reeves (Donna Mills)|Madeline Reeves]]<ref>On August 28, 2018, Nina received a call from Pentonville that revealed Madeline was dead … http://soaps.sheknows.com/general-hospital/recaps/27425/the-identity-of-the-patient-in-ferncliff-is-revealed</ref><br><small>(Nina's parents; both deceased)</small>

 

| parents = [[Mikkos Cassadine]]<br><small>(Valentin's father; deceased)</small><br>[[Helena Cassadine]]<br><small>(Valentin's stepmother; deceased)</small><br>Mr. Reeves<ref>Madeline put Nina in a coma because her husband left all of the money in his will to Nina. Which would mean he's dead as Nina inherited the money.</ref><br>[[Madeline Reeves (Donna Mills)|Madeline Reeves]]<ref>On August 28, 2018, Nina received a call from Pentonville that revealed Madeline was dead … http://soaps.sheknows.com/general-hospital/recaps/27425/the-identity-of-the-patient-in-ferncliff-is-revealed</ref><br><small>(Nina's parents; both deceased)</small>

 

| siblings = [[Stavros Cassadine]] <!--<small>(deceased)</small>--><br>[[Stefan Cassadine]] <!--<small>(deceased)--><br><small>(both deceased)</small><br>[[Alexis Davis]]<br>[[Kristina Cassadine]] <small>(deceased)</small><br><small>(Valentin's siblings)</small><br>[[Irina Cassadine]]<br><small>(Valentin's stepsister; deceased)</small><br>[[Nathan West (Ryan Paevey)|Nathan West]]<br><small>(Nina's legal brother; deceased)</small>

 

| siblings = [[Stavros Cassadine]] <!--<small>(deceased)</small>--><br>[[Stefan Cassadine]] <!--<small>(deceased)--><br><small>(both deceased)</small><br>[[Alexis Davis]]<br>[[Kristina Cassadine]] <small>(deceased)</small><br><small>(Valentin's siblings)</small><br>[[Irina Cassadine]]<br><small>(Valentin's stepsister; deceased)</small><br>[[Nathan West (Ryan Paevey)|Nathan West]]<br><small>(Nina's legal brother; deceased)</small>

−

| children = Unnamed daughter (Nina's daughter;born 1992;revised to 1993)<br>[[Charlotte Cassadine (Scarlett Fernandez)|Charlotte Cassadine]] (Valentin's daughter, carried by [[Claudette Beaulieu (Bree Williamson)|Claudette]]; born 2009)

+

| children = Unnamed daughter (Nina's )<br>[[Charlotte Cassadine (Scarlett Fernandez)|Charlotte Cassadine]](Valentin's daughter, carried by [[Claudette Beaulieu (Bree Williamson)|Claudette]]; born 2009)

 

| grandchildren =

 

| grandchildren =

 

| color = #74138C

 

| color = #74138C
---
Revision as of 23:42, 26 January 2019
Valentin Cassadine and Nina Reeves are fictional characters and a fictional couple on soap opera General Hospital.
Casting
The role of Valentin was originated by actor James Patrick Stuart on July 11, 2016.
The role of Nina was originated by veteran soap actress, Michelle Stafford on May 1, 2014.
Background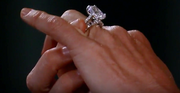 Valentin is the previously unknown and unseen son of the late Prince Mikkos Cassadine and an unknown mistress. He is the father of Charlotte Cassadine[3] with Lulu Spencer-Falconeri,[4] who was born via surrogate.
Nina is the daughter of the late, Mr. Reeves and his widow, the late socialite, Madeline Reeves. On August 20, 2018, it was revealed that Nina's baby with Silas wasn't miscarried and that she gave birth to a girl and that Nina's mother Madeline put her up for adoption. This means Nina is the mother of a girl in her mid 20s.
As of October 2018, they are divorced.
Storylines
Valentin and Nina met at the Metro Court Hotel on August 2, 2016, with him using the alias Theo Hart. They talk for awhile and then sleep together.
After finding out Theo is Valentin Cassadine, she turns into the cops.
Nina has threatened Valentin twice with a divorce and the second time around she is very serious.
Wedding videos
Valentin and Nina were married on December 29, 2016 (New Years Eve on the show).
Photo gallery
References
Community content is available under
CC-BY-SA
unless otherwise noted.