Valentin Cassadine and Nina Reeves
James Patrick Stuart and Michelle Stafford as
Valentin Cassadine and Nina Reeves
General Hospital
Couple nickname
Valentina
Marriage/relationship dates
2016 (lovers)
Dec 31, 2016 - present
Status
Married
Profile
Age at wedding or meeting
Valentin (40)
Nina (46)
Gender
Male, Female
Couple residence
Wyndemere Castle
Spoon Island
Port Charles, New York
Valentin Cassadine and Nina Reeves are fictional characters and a fictional couple on soap opera General Hospital.
The role of Valentin was originated by actor James Patrick Stuart in 2016 and the role of Nina was originated by actress Michelle Stafford in 2014.
Background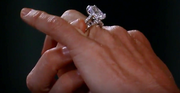 Valentin is the previously unknown and unseen son of the late Prince Mikkos Cassadine and an unknown mistress. He is the father of Charlotte Cassadine[2] with Lulu Spencer-Falconeri,[3] who was born via surrogate.
Nina is the daughter of the late, Mr. Reeves and his widow, socialite, Madeline Reeves.
Storylines
Valentin and Nina met at the Metro Court Hotel on August 2, 2016, with him using the alias Theo Hart. They talk for awhile and then sleep together.
Wedding videos
Valentin and Nina were married on December 29, 2016 (New Years Eve on the show).
Photo gallery
References